February 22, 2009 | Filed Under Popculture, Social idiocy, The Heartless Bitch Way | 15 Comments
I'm convinced that in the next 20 years, with the current demographics and our aging population, that there is going to be a HUGE market for reconstructive plastic surgery.
I'm all for people having the freedom to do whatever they want to their bodies, but that doesn't mean I can't think it's stupid just the same.  It seems that so many young people are incredibly short-sighted.
I see someone like this and I can't help but wonder what they will look like when they are 65. I keep hearing the words to that old kid's song "Do your ears hang low" (Do they wobble to and fro? Can you tie them in a knot, can you tie them in a bow?) 
  And of course, one can't help but stare when you see someone like this on the streets of any North American city, and yet, you aren't supposed to stare because in our culture, that's RUDE. Am I being incredibly prudish? I don't think so.  I just think it's fuckin' stupid.  Only a limited number of people would hire you to work for them if you looked like that. And it costs a small fortune to do all this body augmentation, so it can't be based on a rejection of our money-driven consumerist society – there's a whole BUSINESS around selling the shit necessary to do this to your body.

And it isn't just guys who have bought into this insanity: how about this one? 
Sure, it looks ALMOST ok right now, but again, what about when she's in her 70's and her skin is sagging, and…. well, you get the picture.


This one is definitely going to look like shit in a few decades.


I had a friend who confessed to me that she wished she had the money for reconstructive surgery on her labia, because she had a labial piercing in her 20's and by the time she was in her 30's one labial lip was hanging a good 1/2 inch lower than the other… She no longer had the piercing, but felt self-conscious about the result now that she was in her 30's. I'm tellin' ya, there is going to be a huge business in the future for cosmetic surgeons who specialize in repairing the folly of youth.
And let's not forget the "Complications" that can occur whilst stretching your ears (From a page dedicated to telling you how to do this):
Bleeding and soreness are common but can continue longer than necessary if you stretch too fast.

Blow–outs can occur if you stretch too early and too quickly before the piercing has the proper time to heal.

Tearing can occur when you stretch too fast too soon. This particular complication will not heal itself, and the ear love will remain with a large split or opening. You may want to nquire about plastic surgery to correct ear tearing.

Infections can develop if the piercing is not cleaned regularly/properly, or if you use improper jewelry.
My youngest son (who is an avid snowboarder), was telling me that the ski patrol sees all kinds of horrible shit happen to people with piercings on the ski hill. Ripped noses, lips, eyebrows and ears – one tumble in the snow, and any body jewellery risks getting RIPPED right out.  OUCH!
Of course, while I was looking for photos of stupid monster ear plugs (and I don't mean the kind that block out sound), I came across other crazy shit I had never even seen or heard of (And I used to have a copy of "Modern Primitives" on the coffee table for conversation.)
Check out this freakshow:
 This next one left me speechless, but you can read comments that reflected my thoughts exactly over at The Tish File, where I found this photo: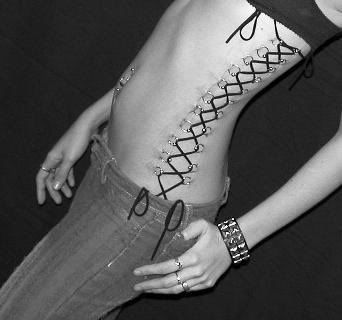 And now that we are on the subject of "lacing", I thought I'd leave you with these choice images.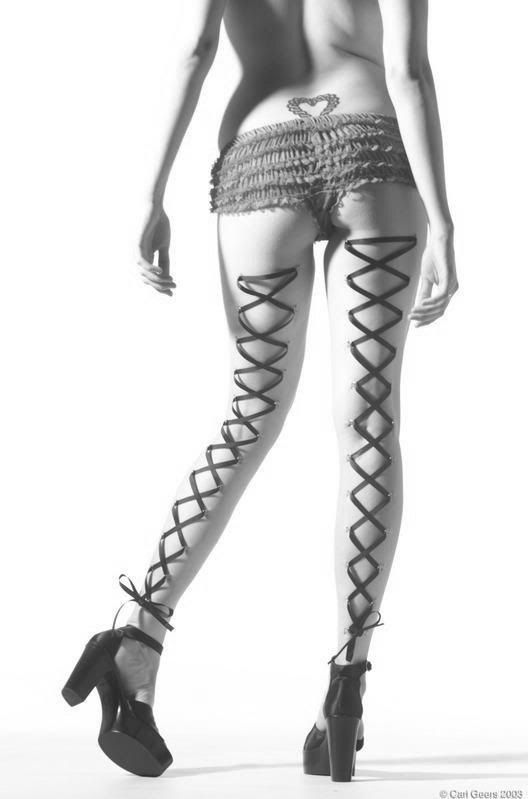 And it's one thing to decide to do this kind of shit to your own body. It's another entirely to do it to some innocent animal who has no choice. THIS woman should be locked up for a very long time. (*ARGH*)
Email This Post
Email this Post
February 16, 2009 | Filed Under Computers, The Heartless Bitch Way | 9 Comments
Number of other sites that reference or link to Heartless Bitches International: 9,370  (according to Google today)
HBI's Google PageRank:  5/10
HBI's Alexa Ranking: 247,857
Number of members currently in the HBI Database: 10,960
Number of HBI members currently registered on the BitchBoard: 2,807
Number of user posts to the BitchBoard since its most recent inception: 28,781 (For the first couple of years, we used different forum software, so those posts were lost when we migrated).
Most posts made by a single member on the BitchBoard: 1,859 (since its inception)
Number of hours it takes me to do a site update (on average): 6
Number of threatening emails I have received over the years: too many to count
Email This Post
Email this Post
February 16, 2009 | Filed Under Politics, Popculture | No Comments
http://brandstrategy.wordpress.com/2009/01/21/goodbye-bush-says-veet-in-cheeky-ad/

(Thanks Mike, for the link)
Email This Post
Email this Post
February 11, 2009 | Filed Under The Heartless Bitch Way | 2 Comments
So Dan, over at CharismaTips.com asked for a podcast interview.  I'm up for almost anything that promos the site, so, after checking out his site's content I said "sure".  Unlike a lot of smarmy seduction-type dating advice sites, I get the impression Dan is just trying to get people to learn how to be comfortable with themselves and be genuine with the opposite sex. I can't vouch for his techniques or courses, but if he's willing to entertain words of wisdom from this Heartless Bitch, he's at least got his heart in the right place (considering mine is nowhere to be found).  It's my first lengthy "podcast" interview as well.  And just in time for Anti-Valentines!  If your curious about the sound of my dulcet tones, you can check it out at Meet A Heartless Bitch.
Email This Post
Email this Post
February 9, 2009 | Filed Under The Heartless Bitch Way | No Comments
HBI swag takes not one but two spots in the "Top 10 Anti-Valentine's Gifts" at Inventorspot.com.
Cool.
Email This Post
Email this Post
February 6, 2009 | Filed Under Random Silliness | No Comments
(Thanks Fabs!)
Email This Post
Email this Post
---