February 24, 2008 | Filed Under Lifestyles of the Heartlessly Bitchy, Social idiocy | 3 Comments
Randall does it again, brilliantly skewering the double standards that STILL exist today…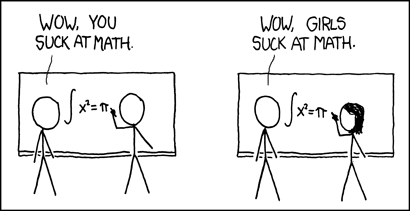 Email This Post
Email this Post
February 22, 2008 | Filed Under Lifestyles of the Heartlessly Bitchy, Parenting, The Heartless Bitch Way | 13 Comments
I don't know whether it's a blessing or a curse, but my readers send me links to articles which seem to fall into two distinct categories. They either make me laugh or they raise my hackles completely.
(OK, there's a third category, the kind that are so lame I can't be bothered, but I really don't count them).
At any rate, THIS LINK came in today, and had me sputtering.  It had me sputtering, "WTF??!  What year is this?!" It had me wanting to club some moronic, self-pitying needy woman over the head with a very large clue-by-four.
(as a side note, it made me think of THIS XKCD COMIC since I was frothing and writing as the bf asked if I was coming to bed.)
This woman is not talking about "compromise" and "accepting people for what they are but hoping for their improvement" – she's talking about hooking up with someone as a spouse in order to ensure another paycheck and co-parent even if you don't actually LOVE the person, find them sexually attractive, or even LIKE them.
Again, I have to say, WHAT. THE. FUCK. ?
How does this crap get airtime?
Guys, would YOU find it offensive if _you_ were told to "settle"? Not for a non-goddess, human being, but for someone you don't love, find offensive, don't have sex with and ultimately envision as nothing more than a paycheck and occasional sitter for your child? I have a word for that, it's called EX-SPOUSE!  (And they are generally EX for a reason people.) 
I mean, honestly, is anyone out there telling MEN to do the same?  I mean, seriously, WTF?  What year is this, please?
Personally, I think Lisa Gottleib must be soul mates with Ann Coulter. ( No WONDER she never found the right guy to hook up with!)
Look, I won't disagree that single parenthood is HARD, but take it from me, being in a marriage where you are doing pretty much EVERYTHING, and you feel like you are raising 3 kids instead of two, is HARDER. 
I'd rather be single.  At least I can HIRE a reliable person to mow the lawn, or look after the kids, or do the household repairs that I don't have time to get to.
I agree that women who enter into parenthood as single mothers have a rough road ahead. It's TOUGH being a single parent. But it seems that Gottlieb's never been in that worse-than-compromise relationship she is trying to tout as the preferred option to going it alone. She's spouting uneducated, inexperienced shit of the worst kind. We all know, if from nothing else but our parent's marriages (if not our own), that what people on the OUTSIDE see of a relationship is rarely what is really happening on the inside.  Her view of her friend's marriages is distorted at best and utter bullshit at worst.
If she were talking about compromise and realistic expectations for people as human beings and not icons or roles, I could get on side with her position. But unfortunately, that's NOT what she is advocating.
Lisa Gottlieb is bitter, sad, overwrought and operating from a completely biased position where she is clearly regretting her decision to become a single parent. She misguidedly thinks that "settling" for a jerk who is nothing more than a paycheck and an occasional babysitter is a better option.  She is so sadly mistaken it would be laughable if it weren't for the fact that the likes of the TODAY SHOW are taking her seriously and giving her airtime.  (At least she's giving me blog-fodder).
For GODS SAKES, put ME on the show. I'll give you a REAL perspective with some REAL experience from both sides of the fence.  And I dare say, a bit more intelligent commentary than Lisa can contribute (based on her writing).
Don't get me wrong, I LOVE being in a relationship with someone with whom things click, and I wouldn't recommend single parenthood unless you REALLY know what you are getting into (having an equal partner as a co-parent is a MUCH better option), but I also wouldn't recommend hooking up with an ASSHOLE just so you can have another "parent" in the picture for your child.  God knows how many emails I get from miserable, abused women trying to escape just such a "compromise"…  The downside of hooking up with Mr. Wrong is so much much worse than ANYTHING single parenthood could throw at you.  Like I said, put ME on the Today Show, and I'll give you an earful of what "settling" REALLY results in for the vast majority of women.
I just LOVED Jessica's response to the article in feministing, and in particular this bit had me laughing out loud:
Gottleib said:
Oh, I know—I'm guessing there are single 30-year-old women reading this right now who will be writing letters to the editor to say that the women I know aren't widely representative, that I've been co-opted by the cult of the feminist backlash, and basically, that I have no idea what I'm talking about. And all I can say is, if you say you're not worried, either you're in denial or you're lying. In fact, take a good look in the mirror and try to convince yourself that you're not worried, because you'll see how silly your face looks when you're being disingenuous. (Emphasis added)
Jessica's response (in part – read the whole article to really get the full measure of her ire):
 

 

 

 

 

 

 

Really?  Because this is how worried my face looks. Perhaps, as someone who is turning 30 this year, I'm some sort of anomaly because I'm not desperately running around looking for the nearest douchebag to propose.
(And as a side note, I just have to swoon about feministing.com – recently discovered it and love it love it love it. Added it to my blog links tonight. ) 
And Instigatrix pointed me in the direction of another heartening response (from a guy, Jeff Fecke) to Gottlieb's article on Shakespearesister's Blogspot 
 My favorite quote from Jeff,
Parenting is hard, very very hard. But you know what? I'm not giving my ex-wife a fucking free night off when I take my daughter. And I'm not a goddamn wallet. I'm a father.
AMEN Brother.
But Gottlieb isn't looking for a father for her child, she's looking for a babysitter. She's looking for a man who will raise her kid, give her money, and accept that she doesn't find him attractive or actually like him very much. She's the kind of woman the MRAs fear. Which is why I'm completely not surprised to find that she's lecturing women about why they should give up on feminism.

But should Gottlieb actually settle, I fear she'll find out what too many of us have found out — that marriage isn't any easier than parenting. That it requires its own sacrifices and its own compromises and its own hard work. And that when a marriage fails, it's far more painful than any monthly check or night off from parenting could ever assuage. You're never more alone than when you're married, and alone.
What really slays me about Gottlieb's article is her references for her opinion-couched-as-fact:  fucked up "friends" and sitcoms.  You know, it reminds me of the nutbar who wrote to the researchers at the Observatory, CONVINCED that aliens had stolen the moon, left a facade in place (which is what we see at night) and that our governments were in cahoots – it was all a big conspiracy. His lengthy bibliography was a series of science fiction novels.  Ooh. Very compelling.
Lisa, the grass is ALWAYS greener on the other side – especially when you are looking at it through chartreuse-colored glasses, but it doesn't mean it's real or better or that your fucked-up experiences are a litmus test for a generation or a gender for that matter.
Lisa epitomizes so much of what pisses me off about emotionally irresponsible people – they blame everyone and everything else for their own problems, issues and choices.  And if they aren't happy, they automatically assume that everyone else who made the same choice(s) must be as miserable as they are.  (Lonely, miserable people seem to feel comforted in the belief that there are other lonely, miserable people out there in the same predicament.)
Here's some advice from the supreme Heartless Bitch, Lisa: rather than write a book or an article, ditch the charteuse glasses, get off the pity-pot, suck it up, and GET SOME THERAPY. No child benefits from having a miserable parent who clearly regrets their choices – especially as it relates to having said child.
And here's a newsflash for the Lisa's of the world:  Being single and emotionally healthy is always preferable to settling for an asshole.
Email This Post
Email this Post
February 9, 2008 | Filed Under The Heartless Bitch Way | 3 Comments
So, I picked up an audible.com subscription, and having just finished the Audible version of Neil Gaiman's "Neverwhere", I'm trying to figure out what my next pick should be.  Any recommendations? 
Email This Post
Email this Post
February 2, 2008 | Filed Under Movie Reviews | No Comments
Every once in a while Special Ops Media sends me a movie for review.  Sometimes they are a two-thumbs up hit, like "Children of Men", but  this time it was a real dog.
"Suburban Girl" stars Sarah Michelle Gellar (of Buffy the Vampire fame) as Brett, a young associate editor at a New York publishing house, and a rather portly Alec Baldwin who plays Alex, the Managing editor at a competing publisher.
This is your stereo-typical may-December romance, with an entirely unlikable controlling father-figure in Baldwin, who tells Gellar's character what to wear, what to write and what to say, and unfortunately, through most of the movie, she sees this as a good thing.
I promised I'd write a review, so that's the only reason I sat yawning through the entire thing.  There was almost no lead-up to Alex and Brett's first meeting and nothing in the encounter that made their hooking up believable in the least.
They had ZERO on-screen chemistry.  In fact, every time I saw Sarah getting romantic with Alec Baldwin, all I could think was EWWWWWW! Just EWWWWWWW!
My son watched it off and on with me, and the most generous thing he could say about this movie was, "I have been walking around all day and I've got to say, I'm chafing, and I'm enjoying that more than I'm enjoying this movie."
It was supposed to be a "romantic comedy", when in reality it was littered with annoying, painful, disjointed and pathetic attempts at wit.  The plot was utterly predictable.  I didn't even find myself smiling throughout the entire movie.
Any of the powerful women were caricatured stereotypes – the wizened overly-made-up bitchy socialite, the new boss who dumps her work on her underlings, and doesn't wear underwear…. you get the picture.
I couldn't believe the number of times characters in the film said that Alex was "good looking and charming".  Ick. Ick. Ick.  Do you suppose Baldwin had the writers put that in, just so he could get more ego strokes from this waste of celluloid?
The only redeeming part of the movie was that Brett left Alex at the end.  And no, I'm not spoiling it for you – the movie does that just fine on its own.
It's pretty obvious why this went direct to DVD, but they could have saved a small piece of the environment by not producing yet another a DVD destined for the trash bin.
We give it a solid 2.5 out of 10.
Email This Post
Email this Post
---