October 30, 2007 | Filed Under Reader Responses, The Heartless Bitch Way | 3 Comments
We get somewhere between 30 and 80 membership applications each week (depends on what web site has posted a link that week).  Sadly, far too many fall into this category:
Reasons for being a Heartless Bitch:
  I have been a victim of domestic violence.  I am tired of being the caring, loving supportive partner of voilent offenders.  I have turned into a cold heart bitch with men.

One Liner:
  Most men are lower forms of human life.
Yes, she's been burned. Yes, she's angry, and she's vowed (at least in this application) to not make the same mistakes again.  Bravo for recognizing that she doesn't have to put up with assholes.
But does this make her a Heartless Bitch? 
She's been a victim in the past and despite all her rage, (she's probably still just a rat in a cage) and she hasn't really dug her self out of that mentality.   Yes, she's realized she should not be putting up with the shit she has in the past. But that's just the first step.  She has yet to acknowledge her own role in allowing herself to become a victim in her relationships.   Unfortunately,  too many women (and men) get to this stage, and find it's just too easy to blame all their woes on an entire gender, rather than admit that THEY made bad choices.
As Instigatrix so eloquently put it,
"She hasn't gotten to the point where she can understand that the raging assholes that have found her and/or that she's found are not stand-ins for ALL men. (In fact, they're not men at all, IMHO; they're pissy bully-boys in man suits.)"
In essence, our applicant blames men for why she has turned into a "cold heart bitch". But this shows she ISN'T taking responsibility for her choices. She's just traded in one form of victim-hood for another.  The men in her past no more "made" her a "cold heart bitch" than she "made" them hit her.
The moment a person falls into the "You made me this way/you made me do it" trap, no matter how angry they are, no matter how much righteous indignation they exhibit, they are not empowered – they not truly taking responsibility for their actions and their choices.  What's more, when someone rages from victim-stance, they run the risk of becoming the same kind of asshole that fucked them over.  They tend to focus on "getting back at" whoever hurt them, and getting what they believe they are "owed", rather than moving on with their lives and putting their energy into something productive.  Our applicant thinks she's getting back at men but the one she's hurting the most is herself.
Yes, anger is important in the recovery process – it can be a vital tool for self-protection – as long as you don't let it become all-consuming. As long as you use it to accomplish something positive.  However, far too many women fall into the trap of using the anger and indignation as a crutch (and barrier to intimacy) that they never really get rid of.
To quote Instigatrix once again,
"She's deep in an 'anger' stage, and if she doesn't get past all the rage, no matter how  justified it was, she'll end up mainlining shit that's way too similar to the junk that abusers shove into their own collapsed veins on the regular.

She HAS taken, it seems, a very important first step. But it's VITAL to her well being that it NOT be the LAST step. It'll probably take some time for her to move on, admittedly, but IMHO she really needs to take that time. At this point, I don't think she's a heartless bitch; she's a bitter, angry bitch, and that's an energy-burner and, eventually, a soul-destroyer."
Just because you were victimized, does not mean you have to remain a victim.  Victim-hood is not like alcoholism, where once an alcoholic, always an alcoholic.  You CAN shuck off the bonds. 
Look at your own attitudes and ask yourself, am I a victim, or am I a Heartless Bitch?  It's really your CHOICE.
Email This Post
Email this Post
October 19, 2007 | Filed Under Parenting, The Heartless Bitch Way | 6 Comments
Once upon a time… when my ex-husband and I were still speaking… he called and opened with this message,
"I have bad news, and I have bad news. Which do you want first?"
 "Hey, well, given those options, I'll take the Bad News."
"Your youngest needs braces."
"Oh geeze. and the OTHER bad news?"
"Your eldest got kicked out of computer class for hacking."
"He DID? I'm so PROUD!"
"Do NOT give him that message!"
"Put him on the phone."
Son: "Hi Mom…"
"So what happened in computer class?"
"It's really silly, actually. I was on one of the class computers, just browsing around and I found I could get to the root of the network drive.  The system is supposed to restrict you to your own personal "C:" drive, so this was interesting.'
"uh huh."
"So I browsed around on the network for a bit and then I figured, Hey, I'm probably not supposed to be here, so I backed out and tried to cover up where I had been, but I guess I didn't do a very good job… because somehow the computer teacher figured out where I had browsed, and now I'm suspended for class for the rest of the term."
"How will this affect your grade?"
"It's no big deal, there's only 2 weeks left, and any assignments I can do on our home system."
"You know, N, when you find a security flaw in a system, you are supposed to notify the appropriate authorities immediately."
(To which my then-bf shouted in the background, "NO. NO. NO. First, yhou build a BACK DOOR, THEN you notify the authorities.")
"K, SHUT UP. You are not helping.  Where was I?…. Oh yes. Notifing the authorities…"
Now you have to understand that what he did was purely accidental -it wasn't even as a result of direct hacking.  For example the youngest son said, upon hearing of his older brother's troubles, "Him? Hack? Oh PUHLeeze!  I have all the teacher's passwords."
And my response:  "I don't want to know! Lalalalalalala" (fingers in ears)
Number 1 son and I talked a bit more about the subject and then I closed with this question:
"So What have you learned form this experience?"
"Cover my tracks better"
"Good boy!"
 Just so the bulk of you don't get the wrong idea. I don't condone unethical hacking, however, if a school computer system is so BADLY configured that an unskilled student can breach security, well HELL, they deserve what they get. He didn't do anything malicious.  They got off easy.  It's like darwinian evolution. Get your shit together and realize your students are probably smarter than you.  Make sure your systems can survive the onslaught.  And for heaven's sake, if they actually take an interest in how things work, nurture it – don't punish them for being curious!
Ironically, I stumbled upon this cartoon this week at XKCD.com (love his twisted sense of humor!), and it reminded me of the whole situation. The "mother" in this cartoon is a quintessential Heartless Bitch. I Love her.  (For you non-geeks, give up, go home. You won't get it. Stop reading here.).

Email This Post
Email this Post
October 9, 2007 | Filed Under The Heartless Bitch Way | 3 Comments
The last few days, HBI has been getting more hits than usual. Examining the logs, I found that we are backlinked from a Livejournal forum discussion at SomethingPositive.  I have an original "NiceGuy" cartoon linked from SP in our "Nice Guys, BLEAH!" section of HBI, and it seems that RK Milholland has hit the nail on the head again with this one.
I just love the last frame where Davan says to his sister, "Your problem is that you don't have any comprehension of being nice.", to which his sister Dhalia replies, "Yeah, there seems to be a lot of that in this family."
Heh.
Email This Post
Email this Post
October 8, 2007 | Filed Under The Heartless Bitch Way | 10 Comments
On October 10, Ontarian's go to the polls for a provincial election. Also on the ballot is a referendum (the first one in something like 30 years) for changing our electoral system (which is currently called "first past the post") to a system called "Mixed-Member Proportional".  Despite all of the information campaigns and ads, most people don't know what it means or how it works.  Some would argue that Elections Ontario has really fallen down on the job of making this new system comprehensible, as the information they provided seems to have left people more confused than informed.
Mixed-Member Proportional is a system that is in place in New Zealand and a host of European countries, and is deemed better than "first past the post" by many political scientists as it provides greater representation for women and minorities and provides fairer representation of the votes cast by the electorate.
In essence, the system would have two checkmarks on the ballot – one for a candidate in your riding, and one for a party. 
Why is this better than simply voting for a candidate? Because… in our current "party" system today, a political party can get a significant percentage of the popular vote, but not actually get any representatives in parliament. Worse, because of the way the party system works, even though I may prefer the "Green Party" candidate in my riding, a vote for the Green is like a vote for the Conservatives.  Why? Because the Green is a minority party, meaning that they are unlikely to win the riding, and as such, the balance comes down to either Liberal or Conservative. (Think "democrat" and "republican" if you are American).  Whatever party gets the most seats, holds power and gets their party leader as the Premier of the province.  So if I think the Liberals are the lesser of the two big-party evils, I pretty much have to vote that way or I risk getting a Conservative candidate elected in my riding. For example, say the election results in my riding were as follows:
Liberal: 34%
Conservative 36%
New Democrat 18%
Green 12%
In such a scenario, the Conservative candidate would get in, despite the fact that they really didn't get a "majority" of the votes – they only got 36% – they simply got more than anyone else.  If just 3% of the voters who voted either Green or New Democrat had voted Liberal (which is probably more closely aligned to their political beliefs than the Conservatives), they would have ensured that the Conservatives did not win a seat in that riding.
You see my dilemma?
The Mixed-Member Proportional system would change that to a certain extent. Sure, we'd still have the risk of getting the wrong "party" elected if we vote for a minority party, but I could put my "party" vote with the minority party and my candidate vote for one of the two major parties that is most likely to carry the election.  A full explanation of how the system works is here.
It's detractors say that the candidates "appointed" through the party, are not accountable to a riding or group of people. I say that's bullshit. They are accountable to the whole province. The political parties have to publish their lists prior to the election, and they have to make their selection process visible and transparent.  There will still be members of parliament for each riding who can focus on local issues, and there will be members of parliament who can focus on broader issues affecting the entire population.  It will also keep the big-party politics in check and ensure that more diverse voices get into government.
I am going to vote in favor of Mixed-Member Proportional. If you are in Ontario and consider yourself a feminist, or simply want to see a fairer representation of women in government,  then I urge you to vote YES on the referendum ballot too.  In every country that has implemented Mixed-member proportional there has been an increase in the number of women appointed to office.
That being said, if I had my way, I'd get rid of our current electoral system altogether. It's inherently corrupt.  Think about it.  To get to any position of high political rank or power, you have to be in so many people's back pockets (whether it's labour or big business), that any hope or semblance of altruism and "for the people" is lost along the way.  The "people" those candidates are "for" are the ones that funded their campaigns and put them in office.
So, in MY new system, we wouldn't vote.  It would be like Jury Duty.  Every member of the population over the age of 21, who has completed at least high school, doesn't have a criminal record, or a history of mental illness, is eligible for "Government Duty". Every year, one quarter of the Parliament is rotated out and a set of new members are drawn from the populace.  Members will represent a "riding" just as they do now – people will be drawn from geographic regions based on the number of people in that region.  Each "member" will serve for 2 years, and be paid the same salary that they declared on their previous year's tax return.  The companies they work for will, like maternity leave, have to hold their positions and let them either return to the same position, or one of an equivalent pay and role.  The body of "appointed" representatives will elect within themselves representatives for the various portfolios such as Environment or Finance. Remember, these are not the people running the government offices day to day – for that we have the existing hired bureaucrats – "Government Duty" people are there to set POLICY.  There will be mechanisms in place to educate the newly appointed officials on the portfolios at hand. 
Schools would have to provide classes on political science and legislative assembly governance. Our kids would come out of highschool informed and aware of how to take a seat in government and what the responsibility would entail.
I think like juries, most people will want to do the right thing by the people they have been appointed to represent.  Yeah, we'll get the occasional crook, but it sure as hell can't be any worse than the current crop of politicians and their back-room dealings.
"But", you say, "We could get total MORONS or NUTBARS in government that way!" To which I respond, "And we don't now? Just look at the President of the United States.  I rest my case."Š
Email This Post
Email this Post
October 3, 2007 | Filed Under Lifestyles of the Heartlessly Bitchy, Work | 2 Comments
Why is it that when I tell friends I am now taking the bus to work, I am greeted with disbelief and/or shocked looks?
It seems that unbeknownst to me, I was somehow deemed "least likely to take public transit" by those in my social circle.  Even the bf thinks I may not fully commit to this new approach to transportation.  So much so, that he recommended I use "bus tickets" rather than buy a monthly pass, until I am certain I'm going to stick with it.
It's not that I'm a snob or anything. I know some people don't like the aspect of sitting with a bunch of other (often strange and malodorous) people, and in fact, see riding public transit as somehow beneath them – but I'm not one of those. In fact, I think the people watching is entertaining, for now, at least.  But somehow my friends just don't see me as a "bus" person (these are the same people that were surprised to hear I DIDN'T have a tattoo).  Sure, I like the convenience a car provides, and I take pride in my wee beastie, but even so, I drive a small economy car, not an SUV, so I'm being as environmentally conscious as I can when I do drive.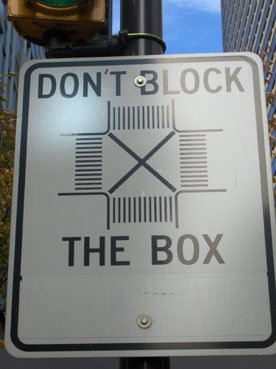 The problem is that the new job is downtown, and it doesn't cover parking costs. Not to mention that the location is a BITCH (and not a good one) to get out of at the end of the day. I'm stressed enough as it is with work – I don't need the added aggravation of dealing with gridlock in the downtown core.  People here are STUPID DRIVERS. 
There is a very fundamental traffic law that must be obeyed to prevent gridlock in a city – it's the one where you DON'T enter an intersection unless you can clear it on the other side.  People here almost never abide by that traffic law, and the cops do nothing about it.  In fact, while I was waiting for the intersection to clear before entering it, one asshole went so far as to PASS ME ON THE RIGHT, in the PARKING LANE,  and then proceded to block the intersection when the light changed. 
One year, I recall it taking 45 minutes to go two blocks during the first snowfall day of the season because a) our hot Ottawa summers apparently cause memory loss – every year the drivers FORGET how to drive in snow, b) people enter intersections when they can't clear them and block them for the through traffic and c) I swear the traffic light cycles in this city are controlled by a single blind, wheezing old man with an IQ of 40 who thinks he's playing "connect 4". 
I want "THE BOX".   You hear that mayor Larry O'Brien?  Institute a "Don't Block The Box" program in Ottawa. The drivers here are desperately in need of some harsh (read EXPENSIVE) and corrective justice, because my horn is getting worn out.  Besides, I bet they could make enough money in the first month to PAY for that controversial new light rail system.  Hell, I'll even volunteer to hand out tickets.  It would warm the place where my heart used to be, to slap a $250 fine on the fuckwits.
But back to bussing…. So I don't drive to work now because a) the new job is downtown with its attendant bad drivers, stupid one-way streets and resident gridlock, and b) the parking would take an unreasonable bite out of my income. So I bus. Which isn't so bad because it gives me a bit of an extra walk (and thus, exercise) to and from the bus stops, and gives me time to work/listen to podcasts on the way. 
Which leads me to my next "For the love of god, do something about this!" request: How fucking hard is it to put up SIGNS in the Transitway (it's kind of like a subway, but for buses), that actually TELL you what station you are at?  I swear, each station has ONE, tiny (8-point font) sign at the very start of the station, and if you aren't paying attention (say, because you are changing to the next song on your ipod), you have NO idea which stop you just went through. The problem with this, is that if I don't pull the "next stop" request at the right time, I won't just have to backtrack one block – this bus gets on a parkway after that last stop and does not exit until I am a good 10kms from my home.  Seriously, I'm going to take pictures tomorrow and modify this posting to show you how STUPID it is.  I mean, every subway stop in ANY metropolitan city has great BIG signs, stating what the station is, right?  How hard can it be? They are ready to spend MILLIONS on light rail, but they can't even put up signs in the current transitway stations?   I'm ready to get out there with a can of spray paint and put the names up myself – except of course, that's vandalism and carries a fine of $500.
If you get caught.
So I bus, and try to pay attention to where I am, so I don't miss my stop.
On the positive side, I do have to go through a mall to get to the bus station near work, so if I need a bottle of wine, or something from the drug store, I can pick it up on the way. I also work near a bunch of small shops that sell specialty meats, fish and cheeses, so I can pick something up for dinner as well. 
Of course, these conveniences would also be accessible to me if I drove to work too, they aren't the exclusive domain of the bus-riding public.
When friends hear that I am taking the bus, the first thing they ask me (after getting over the initial shock and disbelief) is what I'll think of that "extra walk" when it's -20C and knee-deep in snow.  I have to admit, that may be the reason I am not ready yet to commit to a bus pass. My bum-warmer seats in my car have a fair bit more appeal than waiting in the ass-biting cold for a bus that, by-the-way, can't drive in the snow.   Do you know that our brilliant city leaders went and bought articulated buses that can't handle more than 5cm of snow? Oh, and they can't get snow tires for them either. Nobody manufactures them.  In Ottawa, the 2nd coldest capital in the world.  What were they thinking?  Were they thinking at all? 
Worse yet, I heard these buses are made in Winnipeg (otherwise known as Winterpeg to most Canadians), so you'd think they'd GET "snow", right?  You'd think.  Too bad THEY didn't.
So the bus and I have a casual relationship right now. We're dating.  Seeing if we like each other.  Still seeing other people (I take my car on Fridays), waiting for that first kiss of winter to see if the chemistry is really right.
Email This Post
Email this Post
---