April 21, 2007 | Filed Under Lifestyles of the Heartlessly Bitchy | No Comments
me: Dawson's Angst, I mean, Creek? I had no idea you watched that soap opera. Hmmm, and Gilmore Girls too?  And then there's your love of shopping.  It's good to see someone who is comfortable getting in touch with his feminine side.
bf: "Feminine Side"? Harumph.  I prefer to call it "challenging traditional behavioral expectations".  The term "Feminine Side" imposes arbitrary and artificial gender boundaries.
me: I stand corrected. I also stand in awe of your self-awareness and command of the language.  But seriously, Dawson's Creek?!
Email This Post
Email this Post
April 13, 2007 | Filed Under The Heartless Bitch Way | 6 Comments
So I'm behind on reviewing membership apps and I feel the need to go on a tirade.
I'm wading through them tonight, appreciating the gems, shaking my head at the losers, continually amazed at the stupidity of some applicants, and trying to salvage what I can of the mediocre ones.  Applications that I find the most frustrating are the ones that probably have a good idea what it means to be a Heartless Bitch (according to the HBI credo), but for fuck's sake people, could you at least write better than an eight-year-old?!
Look at this one:
 i am sick and tired of people pissing and moaning about thier jobs and lives, i have a job to, yes i hate it but i have to work to survive and crying about it will not make it go away, i am a leader not a follower, i am the one who makes plans because if i leave the responsibility in someone elses hands things usually get fucked up, so i am a heartless bitch because i do what i want how i want it when i want to do it, i dont take no shit from anyone and if you get in my way , ill make you move.
A Capital Letter, my kingdom for a Capital Letter!  How about a PERIOD?  I will NOT post an application that is this poorly written.  I am willing to do minor cleanup and spell-check (especially for our ESL members) but this person is from Canada.  An application like this is too much work to clean up.  There is just NO excuse.  Even my Francophone employees wrote better than THIS. 
Another pet peeve of mine is people who don't know how to use a comma.
 first of all i would like to correct the bitch label for being reasonable instead! yes , all that come out of this mouth is just common sense attacked by morons (specially males). they hate on me , when i say i dont need a man either physically , mentally , spiritually or financially.im 100% independent and a man precense would be like a broken printer , you are there but still you are of no use!!!
The space comes AFTER the comma. There is no space between the comma and the word it follows. (And don't even get me started on the general comma abuse here.)  What exactly is "a man precense"?
Jeezus women, do you want to be taken seriously?!  I'm telling you it isn't going to happen if THAT is an example of how you communicate in writing.  Especially given the admonitions on the application page.
And if you get in and write like that on the BitchBoard, you'll get eaten alive. 
Let me make it clear, being a "Bitch" doesn't mean you are entitled to ignore basic standards for proper adult  communication. Not everyone makes it into HBI. Those that do make it in appreciate the standards I try to uphold. Grammar rules and punctuation exist for a reason.  They help you communicate effectively – it's like the rules of the road when driving.  You are not too good to use a period now and then, and at least make an attempt at some form of proper capitalization.  I'm not a linguist. I'm not expecting perfection – I'm prone to fairly liberal use of slang myself.  I'm just looking for a basic attempt at applying what we all learned in grade school.
Then there are the ones that overdose on ellipses, not really understanding that they are three periods only (unless at the end of a sentence and then it should be four, MAXIMUM), and to be used only to show an intentional omission.
Here is a classic example of a really pathetic just-doesn't-get-it application that also suffers from incorrect-use-of-ellipses-overload:
 i have been getting over on my boyfriend for years…. I have been fucking his best friend … he is so fucking stupid he doesn't even know…..I'm even using one of his email address to add insult to injury…How dumb is he !
(Obviously, in her case, like attracts like.)
Then there are the ones that are almost incomprehensible:
Reasons for being a Heartless Bitch: 

I am ready to find a real man who doesn't ask me.."Is it hard??" Whi cheated on me! Noe how the hell do you pull that off?? I am also ready to be alone. Being a Heartless Bitch seems a hell of alot happier!
What kind of men is she dating that they all ask "Is it hard?"?  Girl, you gotta start looking at places other than the old folks home.  The obvious grammar issues aside, I'm not even sure what question she is asking.
And of course, there's the whole mistaking "attitude" for being a Heartless Bitch:
För att jag inte gnäller som nån annan jävla idiot utan biter ihop och tar hagelgeväret till skjutbanan och krossar lerduvor istället.

(Problems with my language? Get a fucking translator!) 
Given that I DON'T speak Swedish, the site is clearly in English, and this person clearly can give attitude in English, I can tell you that THIS app isn't going to make it anywhere but the trash bin.
We have plenty of Swedish members. They respect that most people outside of Sweden don't speak the language. (Not to mention the fact that online translators like Google don't provide Swedish translation services).  I figure if you can understand English enough to read the site, want to be a member, and actually make your way to the application form, you can WRITE your application in English.  
And then, of course, there are the pathetic ones like this:
 …I am sick with putting up with a jackass husband for the past 40 years.
or this:
 some men make me this way. Don't get me wrong. I love guys but sometimes they really drive us up a wall.
I can't say it enough: Putting up with an asshole husband or boyfriend doesn't make you a Heartless Bitch. It makes you a PATSY. It makes you a whiner.  It makes you stupid and weak for staying.  It isn't about being angry and snarky about your self-imposed situation, being a Heartless Bitch is about DOING something other than complaining and making other people's lives miserable.  Oh, and "men" don't make you a Heartless Bitch any more than an overbearing mother or a crappy boss or stupid customers.  Being a true Heartless Bitch is a conscious choice, not a reaction to someone else's bad behavior.  If you truly accept responsibility for yourself and your choices you aren't blaming or crediting someone else for your attitude and responses. 
I think the biggest problem is that some people (especially the entitlement-encumbered youth) think that being a Heartless Bitch means that NO rules apply to them. I'm not sorry to burst those bubbles – you aren't that special.  True Heartless Bitches know what rules can  be challenged and what rules are necessary for us to make our way in life and accomplish our goals.
If you read enough of HBI to truly understand it and want to become a member, then you must realize that there is a filter process for a reason. (Just see my earlier post with the comic making fun of Youtube morons).  Our membership process ensures that a minimum number of trolls slip through – I can count on one hand the number of people I have punted from the BitchBoard in 10 years.  I want to keep it that way.
Email This Post
Email this Post
April 11, 2007 | Filed Under Music, Popculture | 5 Comments
For some time now I've struggled to find a "Music" editor for the Music section of HBI. Unfortunately I am three for three in terms of people who were gung-ho and then dropped out at the last minute. So that section of HBI has languished. Until I get a real editor who is committed (instead of one who should be committed), I'll be posting my own music reviews here on the blog from time to time.  (Let it be said that those who are willing to run as the music editor WILL get free tix to shows, free CDs and other good swag for reviewing/posting about artists – but dammit, don't offer unless you have the TIME and are going to actually follow through.)
I'd really like to find a music editor because as much as I like music, I'm no audiophile. I like what I like, and that's an eclectic mix of Rock, Alternative, World Music, a bit of Dance, and the occasional Bluegrass or Folk piece. I'll dance to Techno or House for a night, but I wouldn't buy it to play on my iPod.  I'm really not much of a Rap fan, though I will tolerate it in some very specific circumstances. I'm also not a fan of Country, but I did buy the Dixie Chicks "Not Ready to Make Nice", and even though I don't advocate violence except in self-defence, the Heartless Bitch in me chuckled over "Goodbye Earl".  I also love Blue Rodeo, and no matter what the bf might say, it's not because I think Jim Cuddy is hot. I mean, I do think he's hot, but I'd like the music regardless.
My kids are listening to stuff like Led Zepplin, The Who, Black Sabbath, Pink Floyd, etc… All the old 70's rock bands.  "But Mom! It's great music!", they protest when I ask them to play something else – something a little more… RECENT. I don't deny it's great music. It's just that I listened to it TO DEATH when I was their age. Now, I want to listen to something new.    I suppose I can count my blessings. At least they aren't into Rap or Opera.
It was an important factor in my attraction to the bf.  He looks soooo straight. But Instgatrix calls him UFB – short for Undercover Freak Boy, because he conceals an alternative outlook on life, music and movies. He looks like the type that should be listening to The Who, but instead, he's listening to Black-Eyed Peas or The Killers, or Marilyn Manson. He likes eclectic movies as well, (though I think he insists that Pan's Labyrinth had a "happy" ending just to irritate me).
And speaking of new music, I heard about The Cliks on a local radio station tonight when they played the track "Oh Yeah", from their new album, Snakehouse. The Cliks is a girl band reminiscent of Joan Jett, but what really sets them apart is that they don't dress like skanks or barbie dolls – they dress in suits, shirts, pants.  And they ROCK.  What I've heard so far, I LIKE.  If I take in their show when they come to town, I'll be sure to write a review – watch for it in late May… Until then, check out their MySpace (I shudder to say that) page to see their tour dates, and go see a show.  Let me know what you think!
Oh, and they are also Canadian, eh?!
Email This Post
Email this Post
April 11, 2007 | Filed Under Lifestyles of the Heartlessly Bitchy, Popculture | 4 Comments
I just love the comics at XKCD.  This one in particular speaks to the place where my heart used to be: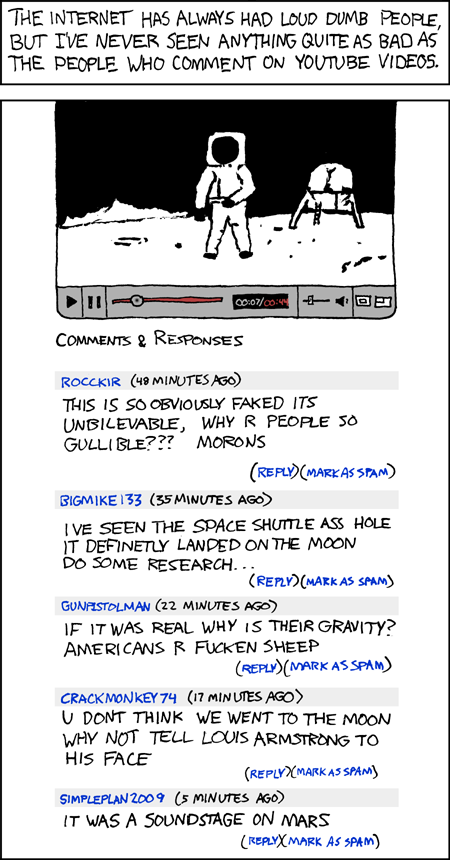 And of course this one caused me to laugh so hard I had tears in my eyes.  The bf came over, looked at it and said, "You really ARE a geek…"
But when he saw this one on existential angst, he looked at me with that look that says, "Ok, the author has YOU pegged." 
When you go to the site, hover your mouse pointer over the images – the "titles" that show up as tool-tips are hilarious.
And for the record, I always call it a "nipple thing", and I hate it. Give me a touch-pad any day.
Email This Post
Email this Post
April 9, 2007 | Filed Under Popculture | 3 Comments
So tonight we are having this most fabulous pot-luck dinner (this town is known, not for being the nation's capital, but for its penchant for pot-luck dinners…). And the after dinner conversation amongst my friends is colourful as usual. After a lengthy discussion about my blog entry on penis size, the topic turns to family, and the production thereof.
Several couples in our group are now producing offspring.  I find this interesting, given that mine are old enough to produce offspring of their own (something the bf reminds me of on a regular basis)…  at any rate, the discussion turns when P says, "Is that all it really comes down to? Are we, at the most fundamental level just programmed to procreate and propogate our genetics?  If that is the case, what is the point of doing anything else?"
So I raised the subject of memetics.  For some of us, at least, propogating our genetics may not be the ultimate goal. For some, our biological imperative may be to place an idea, a concept, into the social conciousness. It may be to spread an IDEA to many others, to many generations, and not DNA. I explained the concept of memetics, using the example of evangelical religions and the impact to those "infected" with the memetic virus.
To which P, sagely replied, "I wonder if the guy who invented 'Mahnahmahnah" really realized the impact of his work? Did he KNOW the effect it would have on generations to come?
I had to call my son and see if he was infected.  He knew the sound. He knew what he was SUPPOSED to do, but he steadfastly resisted.  I got him to put my sister-in-law on the phone – she is in her late 30's. I said to her, "When I say 'mahnahmahnah", what do you want to say back? And she immediately said, "du dooo  de dooo do!" 
"Ah HAH!", I said, "You are infected!" (She laughed.)
The problem with the "mahnahmahna" virus is that it doesn't contain with in it the urge, the imperative, to SPREAD it to subsequent generations.
But right now, the question is, when someone says to you, "Mahnahmahnah", what do YOU want to do/say?
Statler: "The Question is, what IS a 'Mahnahmahnah'?"
Waldorf: "The Question is, who cares?"
Email This Post
Email this Post
April 8, 2007 | Filed Under Lifestyles of the Heartlessly Bitchy, Popculture | No Comments
bf: So, I have designated Thursdays as "Hunky Night in Canada"

me: What? Why?

bf: "Smallville" and "Supernatural", back-to-back. And YOU, glued to the television, for two hours straight.

me: "Fine, Tom Welling is hot - agreed.   But I was watching Supernatural because it's filmed in Canada and I liked the premise. I didn't realize that Jared Paladecki was so hot, I mean ripped, until that love scene in the werewolf episode last week!

bf: Sure. whatever.

me: But he's 20 years younger than I am!

bf: What?! So you can't appreciate "beauty in nature" anymore?  Heh. Yeah. Right.

me: Just like you appreciate Tricia Helfer?

bf: Precisely.
(Just so you know, Jared apparently "pumped up" for that werewolf episode, btw)
And he's still not as hot as Ben Browder. (But then maybe it was just all that black leather... or perhaps it was just the way he holds his... er... gun.)
Email This Post
Email this Post
April 5, 2007 | Filed Under Lifestyles of the Heartlessly Bitchy, The Heartless Bitch Way | 6 Comments
Last weekend I went to a small party with the bf.  At some point late in the evening, a scrabble game broke out. Yeah, it was a WILD party.  (I'm convinced J was cheating – NOBODY gets over 30 points per hand while the best I can do is spell EIEIEIO….) The bf was somewhere, socializing, I expect.  Honestly, I wasn't paying much attention to what he was doing.  He came by periodically and tried to suggest options for my lame tiles, but then disappeared again until late in the night.  As the party wound down, I was in the kitchen, deeply involved in a conversation with P regarding a few of our favorite TV  shows. (P has loaned me his DVDs for the first three seasons of Smallville). The bf hung back watching P and I animatedly compare notes.  Finally, around 2am, we rolled home.  The next morning we took full and repeated advantage of the fact that it was the weekend and we didn't have to go to work…
That evening, and the following day reminded me once again, why I love the bf so much:  he doesn't expect me to take care of his feelings and coddle him – not at home, nor when we are out socializing.  It doesn't bother him if I am lost in conversation with someone else. He doesn't automatically assume I am ignoring him.  He doesn't expect me to drag him into the conversation in order to make him feel included. He doesn't get all sulky and pouty because he doesn't feel "left out" or neglected if he isn't the center of attention. He is perfectly capable of socializing on his own and enjoying himself whether I am paying attention to him or not.  (And he also doesn't get bent if I don't go to bed when he does.)
Once upon a time, I had a boyfriend, D.  For the first year that we dated, he seemed like the perfect partner.  Unfortunately, over time, cracks showed in the patina, but I was so sucked in by the "good" D, that, for a time, I actually thought it might be my fault for bringing out the "jerk" in him.  Towards the end of the relationship, things got really weird and messed up.  I recovered my inner Heartless Bitch and kicked him (and all my other toxic roommates) to the curb. 
But I want to talk about one specific behavior that manifested itself during the relationship.  It's a classic manipulator tactic that I see enacted by people of either gender – and I see their partners, family and friends getting sucked in by it.  D had to be the center of my attention, at all times.  If we went to a party, or went out to a pub, or dinner, I had to make sure I "included" him in the conversations. In essence I was expected to coddle his ego and make sure he was ok and having fun.  Once, at a big public dance/party that we attended with friends, I explained I was going to the bar for drinks. There was a long lineup. When I got back to where we had been standing, he was gone.  I spent the next 40 minutes looking for him (he didn't have a cell phone), and finally phoned home only to find out he was there. He claimed he felt "abandoned" and left.  He claimed he went looking for me, but I don't believe it for a second.  It was a passive-aggressive bullshit thing to do, and unfortunately, I let his behavior ruin my evening.  While he never left a party in a huff again (I made it clear I would NOT tolerate that kind of behavior), he still blamed me for neglecting him and not caring about his feelings.  Clearly I was self-centered and didn't care about HIM enough…
One would hope that it ended there, but sadly, it did not. He still expected me to caretake his feelings and be responsible for ensuring he was enjoying himself at a function.  This behavior was especially pronounced if I was enjoying myself.  If we went out with friends, and I got deeply involved in a conversation with someone, he'd get bent if I didn't remember to stop and ask HIM questions and "include" him. As if he didn't possess a brain or a mouth and the ability to PARTICIPATE like everyone else.  OTHER people jumped into the conversations, but he had to be INVITED.  You see, it was all about HIM. If I was having fun and not constantly checking in with him, then I was obviously deliberately abandoning him and not caring about HIM. Then he'd start to sulk, and sometimes that sulking would last for days or weeks, often with me having NO idea what it was that I had "done" to hurt or upset him. 
He finally stopped coming out to the pub with me or to parties where my friends were present, because those people aren't the type to coddle passive-aggressives. If you sit there quietly, they assume it's because you don't have anything to say. If you have something to contribute, you jump in when someone takes a breath.
It's not like I deliberately ignored the guy or never paid attention to him. Hell, he was the most high maintenance guy I dated.  When we were alone he had my undivided attention. It's just that he wanted that attention whenever he sensed that I was absorbed in something else – like a conversation with someone, or writing an article on the computer.  It was a power thing.
Sure, towards the end he admitted he was "jealous of my charisma" and my ability to strike up a conversation. He even admitted in a rare moment of veracity that he went to a therapist to try and change me, because my behavior was "hurting" him.  Oh, he'd claim he was accepting responsibility, but it was personal responsiblity "lite" – the kind where it LOOKS like they are acknowledging stuff, but in fact they are just shunting the blame on to you. He was a Master at it.  He'd say things like he "accepted that he was responsible for letting me hurt him" – and crap like that.   Of course, when I'd reject those blame fests, he'd accuse me of being uncaring and self-centered, which was just one of many examples of him projecting his issues onto me.   He never actually acknowledged that his demands and expectations were unreasonable and manipulative. Because, in his mind, if you really LOVE someone, you are supposed to make sure that they are happy and comfortable all the time, right? And if they aren't, YOU are responsible for fixing it, right?  And if you refuse to play the game?  Oh, you Heartless Bitch!  (Extra Heartless points if you eventually ask him, "Does the cross hurt when it's shoved that far up your ass?")
In the end I always felt vaguely to extremely uncomfortable when I was out with him. I had to be constantly checking in – I could never really relax and just enjoy myself.  It was a manipulative control tactic, and for a time (until I wised up), it worked. 
The current bf is quiet. When we are out in a group or at a party, he sits there, mostly just watching the antics and listening to the conversation, and joins in on the laughter.  If he is inclined or has something to say, he'll speak up. But here's the kicker – he doesn't expect ME to keep him entertained. He doesn't expect ME to stop every few minutes and check in with him to see if he is having fun.  He doesn't leave in a huff or start sulking if nobody is paying attention to him.  In short, he doesn't expect the world to revolve around him.  And he has fun. He's not being a martyr – he really just enjoys listening and watching and sometimes participating.  (But if you want to get him really animated, just tell him that Enterprise Architecture is a concept that is past its prime… *grin*)
It's one of the many things I love about him.  Despite his penchant for garden sculptures of cows and birds, he's an emotional adult.  Unfortunately, it took me wading through a few emotional children to locate him, but he was worth the wait.
Email This Post
Email this Post
April 2, 2007 | Filed Under Lifestyles of the Heartlessly Bitchy | No Comments
So, the other day we were at HomeSense, (a discount/clearance place for housewares, linens, furniture, etc.).   I can't even remember why we went in there.  At any rate, we were poking through the aisles and aisles of bargains, and I picked up some silicone oven mitts that have magnets in them so you can hang them on the fridge (which happens to be beside the stove in our place, btw), some BBQ sauces, and a funky serving tray. As we were approaching the cash, I could see the bf had something clutched (yes CLUTCHED) to his chest…
Yep folks, THIS is what he was holding
(it's about 7 inches across) 
I just LOOKED at him, and he said, "It speaks to me."
I just love a man who buys me pneumatic power tools for Christmas and is not afraid to buy a Cow birdbath on a whim, because it "speaks" to him…
I said, "You realize, of course, that if we actually use it as a birdbath outside, it will be more like a sacrificial altar. " (The cat would LOVE something that attracts more prey into the yard).
He looked conflicted, but clutched it tighter.  "It still speaks to me."
It's now the cat's water bowl in our upstairs bathroom.
Email This Post
Email this Post
April 2, 2007 | Filed Under Social idiocy, The Heartless Bitch Way | 5 Comments
I recently received a Rant submission from someone who was justifiably pissed off about the current media obsession with unobtainable beauty standards and the effect on women.  Then she went on to berate girls who go out doing the "drunk and stupid" thing on the weekend (and indiscriminately sleeping around), suggesting the behavior was  "masculine".  She felt that women needed to "embrace their femininity" rather than try and keep up with the lads engaging in boneheaded behavior. I was right with her until that point.
Anytime someone uses the word "femininity" it just sends my spidey-sense a tingling… doubly so when they combine it with an expectation of female superiority.
You see, I have a REAL problem with people trying to apply ANY definition of "femininity" to women, especially as it applies to dictating appropriate behavior.  The problem with the word "femininity" is that it's loaded. And we aren't talking 9mm loaded, we are talking Cruise Missile loaded.  Everyone has their own definition, and way too many times, those people try to inflict that definition on other women. Some people don't think it isn't "feminine" for women to wear pants or low-heeled shoes. Some people think that a woman shouldn't be a CEO, or a doctor, or an electrician, or fight in the military, or swing a hammer, because that's "unfeminine".  Hell, until just a few decades ago, it wasn't considered "feminine" for women to be educated.  Some people feel that it is unfeminine to want to remain childless.   In some countries you aren't feminine unless you have your genitals mutilated to make you 'acceptable' for marriage. The word is used far too often to dictate female behavior and put us into narrow and confining boxes, some of them dangerous and demeaning, and all of them dangerious to our freedom. 
Hell, I've even seen women who think we should "embrace our femininity" by celebrating our menstrual cycles.  Yeah, like I want to party with my period.  Ugh.  Celebrating my menses would be like saying, "but I love him" about an abusive boyfriend.
But I digress…
The woman who submitted the "Rant" believed that women going out every weekend, drinking heavily and sleeping around was somehow a rejection of their "femininity" – that the stupid behavior was somehow male, and women should rise above that.
I wholeheartedly agree that women today are getting messages from the media. Too many girls and young women seem to think that "empowerment" means dressing up like a sex object flaunting their sexuality in order to gain male attention.  It really undermines their credibility and misdirects them away from *real* empowerment. It's a difficult subject to tackle because part of empowerment absolutely is having control over your own sexuality, and full control over those choices – even if they are bad ones.  But that's a whole different thing than ascribing stupid behavior to masculinity.
It's tough, because in the end, "equality" really is about the RIGHT to behave exactly as a man does – regardless of whether or not you agree with the behavior or think it is appropriate.  While heavy drinking (and having unprotected sex with total strangers while blind drunk) may be considered "masculine" behavior by some – in fact it has nothing to do with gender. It's a STUPID behavior.  But remember the quote from Voltaire, "I do not agree with what you have to say, but I'll defend to the death your right to say it."¼br /> Accordingly, when we talk about equality, I may not think it is wise or reasonable for women to do stupid things that some people traditionally ascribe to men, but I won't deny them the RIGHT.  Bad behavior – stupid behavior is not a gender-based thing.  It may be more socially "acceptable" (to some) for men to do stupid things (Movies like Jackass clearly glorify testosterone-poisoned acts of stupidity), but that doesn't make inane behavior exclusively "masculine".¼br /> If you only attack female promiscuity, you are taking us back to using our pussies as some kind of reward that has to be virginal to be acceptable (otherwise, she's deemed a whore, right?).  Instead, we need to be critical of  drunken promiscious behavior as a WHOLE – amongst both men and women, not because sex is some sacred act, not because virginity some prize that must be held aloft for Mr./Ms. "Right", but because it's unhealthy behavior both physically and emotionally.  The risk of pregnancy and STDs when drunk is enormous.  And unfortunately, too many people think that by having sex with someone, it will somehow make that person more likely to want to form a relationship.  Under those mistaken circumstances, it really IS emotionally unhealthy.
I'm not some Dr. Laura prude. In fact, I think people should definitely have some base of varied sexual experience prior to settling down with another person for the long haul. So what defines sexual promiscuity in my books? When it is like any other addiction – the person engaging in it is generally depressed, doesn't like themselves,  often regrets the behavior after-the-fact, and yet goes out and does it again the next night.  It is really no different than any other addiction like drugs, or religious fanaticism – what you are doing is giving up control of yourself to something or someone else.  Making matters worse of late, is the mix of media messages that bombard our youth, suggesting to young girls that "empowerment" is somehow all about sexuality.  With the girls so busy trying to achieve some impossible beauty standard, and seek out male attention for it, they can't pay much attention to developing their brains.  If I didn't know better, I'd say that mainstream media is part of some evil patriarchal plot to subvert feminism and drive us back to the dark ages.
But getting back to the topic of equality and stupidity…
If you only berate women for stupid behavior that manifests itself in BOTH genders – particularly by suggesting that women shouldn't behave "like men", you are implying that somehow women should be "above" men, and once you start down that slippery slope you are heavy into the Goddess-vs-Whore duality where women are not allowed to be human.  Accordingly, you are implicitly condoning bad behavior in men – the old "boys will be boys" mentality, and not holding THEM to the same standard to which you are holding women.¼br /> Pedestals are narrow and confining places.  We humans tend to fall off of them.
Email This Post
Email this Post
---