November 26, 2009 | Filed Under Social idiocy, Work | 5 Comments
At the Web2.0 Expo last week, a poorly-delivered talk by Dana Boyd of Microsoft caused quite a controversy, and the dust still hasn't settled.  While the talk was disastrous in many respects, it wasn't her poor delivery that is at the center of the discussion – it's how people in the audience behaved, and the resulting comments on the live twitter back-channel feed that was playing behind her during that talk, that has drawn the fire and ire of many people.  The Eloquent Woman blog has an excellent article entitled The object in Danah Boyd's Web 2.0 talk about why so many women feel uncomfortable in public speaking engagements.   Well worth the read, and she's spot-on when she says,
Despite all the discussion, calls for apologies and outrage over this episode, I've yet to see observers pick up on an important point that Boyd herself makes: Some of the comments broadcast on Twitter by some of her audience members were objectifying and sexual in nature.
How many bad male speakers have to put up with that?   Sadly she confirms that,
In 2009, we're seeing yet again an issue that has plagued women speakers since the days of ancient Greece and Rome:  Attempting to silence women by treating them as sexual objects (or hysterics, or other negatives).
Why does it feel like we still have a long way to go…?
Email This Post
Email this Post
May 5, 2009 | Filed Under Social idiocy, The Heartless Bitch Way, Work | 2 Comments
Thanks, Michael. Thanks for getting me more pissed off than I have been in ages. Thanks for ruining my day.
Ok. So it's not his fault, and I DO appreciate being made aware, even if it does invoke my burning IRE.  (I'm forwarding the link to Instigatrix just because fury loves company.)
Michael sent me a link to a blog posting entitled, "A Tipping Point for Women in Tech? Here's hoping." at Blogher.com.  
It seems that Matt Aimonetti thought it would be funny, nay, even APPROPRIATE, to intersperse images of women in porn poses in his presentation at the latest Ruby on Rails conference.  Apparently even the creator of Ruby himself thought this was OK.
Seriously.
What. The. Fuck. is WRONG with these people?  Virginia Debolt's article at blogher is a brilliant discussion and dissection of the uproar that (rightly) arose from this incident. I strongly suggest you read the whole article, and the articles she references. 
Aimonetti plans to attend a panel about Women in Rails at an O'Reilly Rails Conference taking place today. Apparently the speakers at this panel discussion are all women. God, what I wouldn't give to be THERE right now.
Email This Post
Email this Post
September 29, 2008 | Filed Under Lifestyles of the Heartlessly Bitchy, Random Silliness, Work | 1 Comment
Our CEO has this philosophy of encouraging people to stretch their limits – to try things they have never done before.  So when our corporate "fun day" options came up, I chose paintball over the other 4 activities offered.  Though I love laserquest, I'd never gone paintballing before because I bruise really easily, I'm just not into sharp nasty pain, and I've heard it really HURTS.  But my whole team was going, so I figured I'd face my fear of paintball head-on (so to speak) – and in the end  that's where I took most of my killshots – in the facemask.
The night before, I asked the youngest spawn what I should do to prepare since both he and his older brother were avid paintballers in their teens.  He looked at me and said, "Do you have a winter vest?"
I replied "Yeah. Well, it's kind of a fall vest…"
"And do you have a neckwarmer of some kind?"
I said, "Yep."
"And gloves?"
"I have some old leather ones I can sacrifice."
He looked at me gravely, "Good. Wear all that, and then pick out the baggiest set of coveralls there – because you're gonna need them  – you bruise like a PEACH mom."
Graphically descriptive, but very true.
I wore the vest, the neck protection, knee-high cross-country ski socks, jeans, the most padded bra I could find, my "batten-down-the-hatches" tank top from kick-boxing, and a long-sleeved jeans shirt. I took cheapo fall leather gloves, and then picked out that baggy set of coveralls.  They provide you with a mask and goggles, but in future, I'll bring my own goggles – the ones there were scratched and terrible. I could hardly see a thing, fogging up aside.
They said I looked like the Michelin Man, and I suffered innumerable taunts, but I didn't care. It was worth it to leave with my body relatively bruise-free.
I didn't feel a single shot except one on my hand that didn't break (thank god for the gloves – I can't imagine how much it would have hurt if my hands were bare) and one that somehow came through the mask and left me with a mouthful of paint and a bit of a red mark above my lip that lasted a day.  I thank my lucky stars, considering that one guy left the field with 35 welts on his body.  One had a huge lump on the top of his head.  Except for the real hard-core paintballers, almost everyone else had multiple battle bruises.
The thing IS, it didn't feel like the same adrenaline rush you get with LaserQuest (which I love) – my heart wasn't pounding at the end of each game, and I wasn't breathless.  You don't do nearly as much running around – it's mostly crouching, hiding and scurrying from cover to cover. But I felt kinda shaky after the 5th game and was glad it was over and lunch had arrived. 
That being said, it's now brutally clear that the adrenaline WAS flowing and really masks a world 'o hurt.  The next morning I was in AGONY.  I had two bruises on my thighs that spontaneously appeared, (I don't recall being shot in the legs), and every fucking muscle in my body was screaming. I thought my shoulders were going to seize. I had to use my arms to lower myself down onto the toilet because my quads were too weak and shaky.  Going down stairs was torture.  The bf thought it was hilarious. He giggled at my every whimper, the bastard.
All I can say is, thank god I have a hot tub.
Email This Post
Email this Post
July 27, 2008 | Filed Under Computers, Uncategorized, Work | No Comments
If you were trying to get to HBI in the last few days, you may have seen some "site not available" messages. Correction, you may have seen A LOT of "site not available" messages.
At least twice on Friday, the server went down, and I had my ISP reboot it.  I couldn't take much time to deal with it because my REAL job – the one that pays the bills – had me stuck in "networking hell" – and I don't mean the kind where you talk to people.
[Geek alert] Friday morning I had scheduled to move a handful of servers from one subnet to another in preparation for a larger network move. I had scripted out what needed to be done the night before.  What SHOULD have been a 1 hour move turned into an all day ordeal complete with rebooting the firewall AND rebooting the DNS servers.  These things seldom go as planned, and this one took a wrong turn at Albuquerque right out of the starting gate.  In the midst of it all I had meetings to attend and other fires to put out.  So HBI languished.
Late Friday night the HBI server died again and no amount of incantations, three-fingered salutes or prayers would get it back. Thank god my ISP is small, with actual staff there to help you on a Saturday.
Saturday was a bit of a frantic day for me, what with 25+ people arriving that night for the annual Natalie VS Tony Rib Cook-off…  but I just had to get out to my ISP and see if there was anything that could be done for my decrepit and presently defunct server.
Corey was a sweetheart – he pulled it off the shelf, we tried swapping a video card, but that didn't work, but I did notice that while the box had power, the fan on the power supply wasn't spinning. He rummaged through a box of power supplies, uncertain if they were good or not – and after the second one we tried, we hit success – the box was up and running again.
Of course, this just highlights the fact that I simply HAVE to get my ass in gear and work on the migration of HBI to a newer/better/stronger server.  However, to get that done, I think I'll actually have to take a week of vacation leave and focus on nothing else.  If things ever slow down at work, I may do just that.  Granted, I'd rather spend a week of vacation leave on a sunny beach somewhere, with a buff young pool-boy named Juan bringing me drinks, but this shit has just got to get DONE, and it's too involved and complicated to do piecemeal.  The biggest pain in the ass is going to be going from a non-case sensitive system to a case-sensitive one.  I have THOUSANDS of documents to go through and sanitize by both changing file names and globally searching and replacing links in files.  Then there is the database upgrade, a dozen applications to test (and a few to upgrade – like the HBI discussion forums), and the mail server aliases to port over…. AUGH. It gives me a headache just thinking about it. 
I started in on this HBI migration last summer. Truly I did.  Admittedly at the urging/prodding of the bf, who even went so far as to get the dev system all set up and ready for me in an effort to get me MOVING on it.   But once again it languished due to other more pressing priorities, and perhaps my own penchant for procrastination on these kinds of endeavors.  I'm great about doing this kind of stuff for work, but personally, I LOATHE having to reinstall and move all my stuff to a new computer.  Maybe it's because it's what I do all day, that it's the last thing I want to do when I get home at night?  This would explain why I am still using Windows 2000 server on my home system.
But I realize that I simply MUST make some time to get HBI ported to a new, improved, more reliable server.  Hardware is cheap enough now, and the current server is likely on its last legs, so it's TIME.  Now if I could just find some.
Oh, and if the site goes AWOL again this week, it's because we have to change IP Addresses and it may take a while for your local servers to update their DNS.  Fear not, I am still here, stirring up shit.
Email This Post
Email this Post
July 9, 2008 | Filed Under Lifestyles of the Heartlessly Bitchy, The Heartless Bitch Way, Work | No Comments
(names have been changed to protect the innocent)
Jane:  Dave, can you do something for me?
Dave: What's in it for me?
Me: Jane, in these situations the answer is always, "I won't slit your throat in your sleep." Remember that.
Email This Post
Email this Post
March 8, 2008 | Filed Under Computers, The Heartless Bitch Way, Work | 7 Comments
Recently, I've been interviewing people for an IT administrator position. I'm an exec, but of a small company, so I literally roll up my sleeves when required and manage the servers and network alongside my existing IT admin as and when needed, so I know a fair bit about the actual day-to-day workings of corporate IT infrastructure. I'm also wickedly good at debugging and problem solving.
After going through a round of interviews this week, I'm going to impart some sage advice to those who might be reading and want to have a hope of having a successful career in IT.
To be a *good* IT admin, you have to love to solve problems. I want to see an attitude that says, "No computer is going to get the better of me." I want to see someone who has taught themselves scripting languages and dabbled in installing wikis, blogs, firewalls, and other software components – just because they want to learn how to use these new technologies. You are in IT administration. If you are making a career of this, you should be constantly looking at what is coming down the pike – what new hardware and software is coming out – what will businesses be looking at implementing in 2 to 5 years? What are the latest virus and security threats? There's tons to know and I don't expect someone to know it ALL – I just want to see that you aren't waiting for someone to tell you what to read or learn.
You have to be on a path to continuous self-improvement and learning. I'll ask you what tech blogs you read, what podcasts you follow. I want to see someone with INITIATIVE. I'm looking for someone who is so INTERESTED in technology that they keep pace with the latest trends and tools because they want to – not because they HAVE to.
So you haven't had a chance to use Linux at work. Did you install it on your own network at home? Do you have a network at home? Did you put in VMWare Server (It's free!) and try installing various VMs on your own? Did you install and play with configuring an Apache Server even if it's just inside your home network? Did you get a free web account somewhere and experiment with setting up a family website, wiki or place to share personal photos? Did you set up a VPN between your home and your parent's, ostensibly because you can manage your dad's computer remotely, but really because you wanted to experiment with the latest open source VPN technology? Show me SOMETHING that tells me you've got that spark.
Even if you've never configured it, can you tell me what Raid 5 is, when and where you'd use it, and when it's not recommended? Do you know what a DMZ is? A Packet Filter Rule? A DNAT? Can you explain to me the difference between an SSL VPN and PPTP or L2TP? (other than the protocols they use).
If you are slotted into a position where "other" people take care of network servers, and "other" groups handle security, then what are you doing to make sure you aren't dead-ended? What are you personally doing to grow your skills if you aren't getting that kind of opportunity in your current job? And if you are a contractor, well, there's NO excuse for not taking courses and learning things outside your current scope of responsibility. Your courses are a tax write-off. What are you doing after work? Are you a member of any of the local users groups for Microsoft, Linux, XML, security, etc?  If you have time to follow a regular TV show, or sports team, you have time to take a course and expand your skills – otherwise, you are painting yourself into a very narrow corner, and people like me are going to pass you over for that next really cool job.  And don't give me the excuse that you don't have time. I worked full time, raised two kids and still had time to take courses.
Oh, and be prepared, in your interview, to have to demonstrate your problem-solving skills. I might put you in front of a console and tell me how to add a user on the network. I will definitely give you a few hypothetical situations and and ask how you would diagnose the root cause of the problems.
And as a little side-rant, I'm trying to figure out if working in a government job kills initiative, or people who choose to work in the government for long periods of time just lack initiative. (Here come the flames). Why do I ask this? Because consistently, the people I interviewed who were government contractors or employees, did NOTHING to improve their skills outside of the very narrow focus of their current jobs. The people from the private sector (even if they were far more junior) consistently had more broad-ranging knowledge and skills and showed more interest in learning things on their own, than the government employees who had three to 5 more years of direct work experience. Yes, private sector tends to provide more broad-ranging demands in IT, whereas in the government there are very focussed roles and locked-down environments. Never-the-less, that doesn't stop people from joining a user group, listening to podcasts, reading up on new technologies, or experimenting at home – all of which was demonstrated by the private-sector workers, and not by the government employees.
Perhaps the bf sets a high bar for me in this. He isn't an IT admin – he's far, far more senior than that. But he inisists that he has to know about the new technologies and methodologies so that he can understand and make sense of what the IT people are saying doing and proposing. He doesn't work with Linux at work – in fact he has never had linux at work as far as I know. But he has three different variants of it on our home network – and three wireless LANs, segmented for different traffic (such as guests and visitors). There is always some new piece of hardware or software on one of the several systems on the network. There is a RAID-configured disk array for storing our photos. And all of that is in addition to my 2 desktops, laptop and development server on the network.
He's also set up a LAMP server, with WordPress for me to start porting HBI to.
He's continuously improving his knowledge and hands-on skills in the area of his chosen career. When I interview you for an IT administrator position, and you tell me you want to be an IT architect some day, I EXPECT to see that kind of personal involvement in your own skill and knowledge development.
But this transcends IT and really flows into ANY kind of work environment. If you want to be successful, if you want to be promoted (or, get a better job elsewhere because your current job is a dead-end), then for heaven's sake, DO something on your own about it. Take a course, read a bloody book or two, try some things on your own to extend your skill set. Don't expect your job, or your boss to hand-hold you through your career growth. You aren't in school anymore – nobody is handing you the courses and saying this is what you must learn. Anywhere you want to go is a path YOU must set. Sacrifice that TV time, that hockey game, that night out at the bars, and take the time to learn something new. Have kids? Listen to podcasts in the car as you drive to work, or on the bus if you take public transit. Use your lunch period to read something relevant. Book time after the kids go to bed to take an hour for yourself on career improvement. If your spouse takes issue with the time you are spending improving your skills, then you need to get that spouse to read this article.
Email This Post
Email this Post
October 3, 2007 | Filed Under Lifestyles of the Heartlessly Bitchy, Work | 2 Comments
Why is it that when I tell friends I am now taking the bus to work, I am greeted with disbelief and/or shocked looks?
It seems that unbeknownst to me, I was somehow deemed "least likely to take public transit" by those in my social circle.  Even the bf thinks I may not fully commit to this new approach to transportation.  So much so, that he recommended I use "bus tickets" rather than buy a monthly pass, until I am certain I'm going to stick with it.
It's not that I'm a snob or anything. I know some people don't like the aspect of sitting with a bunch of other (often strange and malodorous) people, and in fact, see riding public transit as somehow beneath them – but I'm not one of those. In fact, I think the people watching is entertaining, for now, at least.  But somehow my friends just don't see me as a "bus" person (these are the same people that were surprised to hear I DIDN'T have a tattoo).  Sure, I like the convenience a car provides, and I take pride in my wee beastie, but even so, I drive a small economy car, not an SUV, so I'm being as environmentally conscious as I can when I do drive.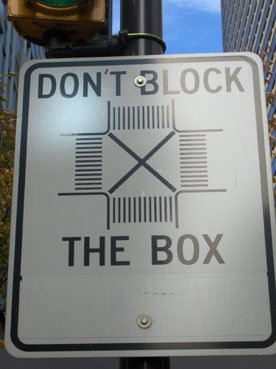 The problem is that the new job is downtown, and it doesn't cover parking costs. Not to mention that the location is a BITCH (and not a good one) to get out of at the end of the day. I'm stressed enough as it is with work – I don't need the added aggravation of dealing with gridlock in the downtown core.  People here are STUPID DRIVERS. 
There is a very fundamental traffic law that must be obeyed to prevent gridlock in a city – it's the one where you DON'T enter an intersection unless you can clear it on the other side.  People here almost never abide by that traffic law, and the cops do nothing about it.  In fact, while I was waiting for the intersection to clear before entering it, one asshole went so far as to PASS ME ON THE RIGHT, in the PARKING LANE,  and then proceded to block the intersection when the light changed. 
One year, I recall it taking 45 minutes to go two blocks during the first snowfall day of the season because a) our hot Ottawa summers apparently cause memory loss – every year the drivers FORGET how to drive in snow, b) people enter intersections when they can't clear them and block them for the through traffic and c) I swear the traffic light cycles in this city are controlled by a single blind, wheezing old man with an IQ of 40 who thinks he's playing "connect 4". 
I want "THE BOX".   You hear that mayor Larry O'Brien?  Institute a "Don't Block The Box" program in Ottawa. The drivers here are desperately in need of some harsh (read EXPENSIVE) and corrective justice, because my horn is getting worn out.  Besides, I bet they could make enough money in the first month to PAY for that controversial new light rail system.  Hell, I'll even volunteer to hand out tickets.  It would warm the place where my heart used to be, to slap a $250 fine on the fuckwits.
But back to bussing…. So I don't drive to work now because a) the new job is downtown with its attendant bad drivers, stupid one-way streets and resident gridlock, and b) the parking would take an unreasonable bite out of my income. So I bus. Which isn't so bad because it gives me a bit of an extra walk (and thus, exercise) to and from the bus stops, and gives me time to work/listen to podcasts on the way. 
Which leads me to my next "For the love of god, do something about this!" request: How fucking hard is it to put up SIGNS in the Transitway (it's kind of like a subway, but for buses), that actually TELL you what station you are at?  I swear, each station has ONE, tiny (8-point font) sign at the very start of the station, and if you aren't paying attention (say, because you are changing to the next song on your ipod), you have NO idea which stop you just went through. The problem with this, is that if I don't pull the "next stop" request at the right time, I won't just have to backtrack one block – this bus gets on a parkway after that last stop and does not exit until I am a good 10kms from my home.  Seriously, I'm going to take pictures tomorrow and modify this posting to show you how STUPID it is.  I mean, every subway stop in ANY metropolitan city has great BIG signs, stating what the station is, right?  How hard can it be? They are ready to spend MILLIONS on light rail, but they can't even put up signs in the current transitway stations?   I'm ready to get out there with a can of spray paint and put the names up myself – except of course, that's vandalism and carries a fine of $500.
If you get caught.
So I bus, and try to pay attention to where I am, so I don't miss my stop.
On the positive side, I do have to go through a mall to get to the bus station near work, so if I need a bottle of wine, or something from the drug store, I can pick it up on the way. I also work near a bunch of small shops that sell specialty meats, fish and cheeses, so I can pick something up for dinner as well. 
Of course, these conveniences would also be accessible to me if I drove to work too, they aren't the exclusive domain of the bus-riding public.
When friends hear that I am taking the bus, the first thing they ask me (after getting over the initial shock and disbelief) is what I'll think of that "extra walk" when it's -20C and knee-deep in snow.  I have to admit, that may be the reason I am not ready yet to commit to a bus pass. My bum-warmer seats in my car have a fair bit more appeal than waiting in the ass-biting cold for a bus that, by-the-way, can't drive in the snow.   Do you know that our brilliant city leaders went and bought articulated buses that can't handle more than 5cm of snow? Oh, and they can't get snow tires for them either. Nobody manufactures them.  In Ottawa, the 2nd coldest capital in the world.  What were they thinking?  Were they thinking at all? 
Worse yet, I heard these buses are made in Winnipeg (otherwise known as Winterpeg to most Canadians), so you'd think they'd GET "snow", right?  You'd think.  Too bad THEY didn't.
So the bus and I have a casual relationship right now. We're dating.  Seeing if we like each other.  Still seeing other people (I take my car on Fridays), waiting for that first kiss of winter to see if the chemistry is really right.
Email This Post
Email this Post
December 4, 2006 | Filed Under Computers, Work | No Comments
This week I ran into a problem with a particular Microsoft desktop product. A certain feature wasn't working the way it was supposed to. Everyone in our office group had the same issue except for the one person who was still at service pack 1.  It was patently clear that there was some kind of bug. (What, you say? A bug in a MICROSOFT product?! Say it isn't so!).
So I went looking on the newsgroups, and found out that many other people had run into the same problem, and that lo and behold, there was a "hotfix" available for it from Microsoft.  Was this hotfix available for download?  No. You had to call MS support to get it. 
ARGH.
So I went to the MS support website, and followed the maze o steps to get my "one free call" from support (otherwise one has to shell out $35…) The site graciously checked my product ID and announced that MY support had to come from my laptop supplier because the version of the software I had was an "OEM" version – installed by the hardware vendor. That supplier was IBM.
So, I called IBM at the number listed – they were good enough to provide that.  And got punted around to the PC support group (who said they didn't support desktop software -only hardware), and then to the Server support group (who said they only supported server software and not desktop software), only to be disconnected in the middle of the conversation.  I then called back and got ping-ponged several times again, before I gave up in disgust.  If Microsoft's slogan is "Where do you want to go today?" then IBM's must be "You can't get there from here."
I called the Microsoft support number directly.  I was not foolish enough to select that keypad option for "if you have software that came pre-installed on your computer, press 1″…. Ah no – I know where THAT would get me – back at IBM. No, this time I went directly to the option for help with a Microsoft product.  After giving all my particulars to the person who answered the call, I explained the problem.  They put me through to another support person who asked that I explain it all over again.  It was really clear he had NO idea what I was talking about and was about tell me to do a series of pointless tests. I ran circles around him verbally and convinced him that I needed a particular hotfix.  He opened a case and sent me an email with details on how/where to download it. 
I installed the hotfix only to find it didn't solve the problem. 
Double ARGH.
But I wasn't about to give up. Armed with my trusty-rusty "case number", I called Microsoft back.
I got through to someone who, after hearing my very lengthy tale of woe, made me call the Canadian support line, where I was introduced to yet another Microsoft person who got to hear the story all over again.  When she took the call and opened with the perfunctory "How are you today?", I responded, "I'm in technical support HELL".  There was a long pause.
"Well, let's see if I can help you."
Now, to their defense, most tech support people have to deal with complete and utter idiots phoning in.  As one instructor put it, "the only people who call customer support are LOSERS and POWER USERS." (In case you were wondering, I fall into the latter category).  So when my latest MS support person started asking what I knew to be irrelevant questions, I cut to the chase, explained exactly what the issue was, and made it clear that I had already tried everything she was about to suggest.
From there, we went through a round of emails and voicemails, where I followed various instructions in an attempt to find something that might rectify the problem. I had to satisfy her that I had tried all of the prerequisite reboots, restarts, patch removals and other sundry tests.  Of course, SHE didn't have the same problem with the software, so it made it even worse.  The one thing that impressed me, however, is that for the first time in my dealings with a customer support organization, I received an email with the person's full name, her office extension, and the same detailed information for her manager.  I have had to demand a manager's name on more than one occasion from other companies, but this is the first time someone gave that to me willingly, and without my asking. It was just a standard part of her email signature.
At this point my boss became convinced that it was not something that could be resolved. He made a bet with me that I couldn't get it fixed before 5pm on Friday.
I don't think he has any idea how bloody tenacious and persistent I am. ESPECIALLY about software, and especially when a bet for honor and a bottle of wine is on the line.
At 3pm Friday, in the middle of a training course, I received another email with another hotfix.  I installed it, restarted, and LO! the feature we needed finally worked! Of course I let out a loud "YES! YES! YESSSSS!" cheer, which only received groans from my co-workers, and a strange look from the instructor – who later said that people in our particular profession have the attention spans of a ferret on cocaine. (We didn't disagree). 
To my boss I sent an IM saying "I like Merlot or Shiraz."
Š
Email This Post
Email this Post
---