December 13, 2010 | Filed Under Popculture, Social idiocy, The Heartless Bitch Way | No Comments
From an article in the Ottawa Citizen today titled "I'm not beautiful; I clean up nice":
Interviewer:  You've won fans as a role model for having sex appeal in your 60's. How does that make you feel?
Mirren:  A bit cross, actually. We have to let go of this crap.  It creates even more pressure on women, and I certainly don't want to be a part of that. I'm not beautiful; I clean up nice.  Why don't we talk about the fact, for example, that I just did Arthur, and the cinematographer was a woman, the film operator was a woman, and the whole camera team were women? That's where we should be putting our attention. The fact that I look good at the age I am is bloody irrelevant.
Email This Post
Email this Post
April 6, 2010 | Filed Under Politics, Social idiocy | No Comments
Let them eat Fake…

Visit msnbc.com for breaking news, world news, and news about the economy
Email This Post
Email this Post
March 10, 2010 | Filed Under Politics, Social idiocy, The Heartless Bitch Way | 3 Comments
Never one to shy away from controversy, trust Heather Malik to address the Niqab controversy head on.  You might remember Heather as the Canadian journalist who raised the ire of so many Fox News followers with her scathing review of Sarah Palin, covered in a previous Bitchitorial column.
The subject of the appropriateness of hijabs and niqabshas been hotly debated in the western world,  and I have to concur with Heather's stance on the niqab (full face/body covering for women) for women in Canada.   While we may argue for individual human rights and the ability to practice our culture and religion, we must also judge with a careful eye (in the context of our social values) when those practices are actually harmful  – in this case to fairness, equity and the ability to advance/succeed in our society. 
Despite Ahmed's accusation,  I do not believe it is "racist" to require people to show their face when learning a language or working with the public – especially when the face conveys so much more meaning than just words – it is an essential part of our in-person communication.   More importantly,  I believe the niqab  is, by it's purpose,  a statement of the mistrust of men and a placement of the burden of men's supposed inability to control themselves, on women.  Both of which are not values that we want to engender or promote in Canadian society.
Just because a person has a prior cultural practise, does not mean that it is automatically "right", nor does it give them the right to practise that behavior in Canada. 
"Ahmed hopes that no man will ever see her face, and that men will never truly interact or compete with her. We had that era in Canada, before the Persons Case (and long after), when women were fired from their jobs when they married, when women, Jews and other undesirables couldn't get into good universities, when men ruled on sexual and reproductive matters, when society was compartmentalized to the extreme.
Ahmed wants Canada to give way and revert to an era of cruelty, nay perversion. Canada asks that she concede. Inevitably, both sides will adjust. But someone has to decide where it stops, and I believe niqabs are it."
I have to agree. 
heartlessly,
-Natalie
Email This Post
Email this Post
February 14, 2010 | Filed Under Lifestyles of the Heartlessly Bitchy, Social idiocy, The Heartless Bitch Way | No Comments
I haven't been posting much of late as I've been rather busy and had little time is left over for recreational activities like HBI.  My co-editors have been holding down the fort on the BitchBouncing front, and I've been coordinating some software updates to keep things running.
On the plus side, I did get some time this weekend to get our Heartless E-Cards back up and running – so you can now send heartless Anti-Valentines, or any other kind of postcard via the site.
And while we are on the subject of Anti-Valentine's, I came across this article at the Globe and Mail… thanks to the bf, who thought it would be good fodder for HBI. (He's SO thoughtful!).  In it Leah McLaren basically tells married women that they should suck it up, be happy they are in a relationship, and tells single women to hurry up and get that ring before all the good ones are taken.  She sees Valentine's Day, for those in relationships, as a competition to gain maximum "moral high ground" by one-upping your partner, and takes pride in the fact that she has won this competition the last few years. I could rant about how deeply fucked-up that is, but I think its sickness speaks for itself.  She then goes on to quote Lori Gottlieb, the author of Marry Him: The Case for Settling for Mr. Good Enough, as justification for her own disturbing acceptance of mediocrity in her life.
In all honesty, I'd have to say this comment from "nj1928" pretty much says it all for me when considering Gotlieb's self-absorbed moaning: (do read the comments. Many of them are quite good)
It's beyond insulting the way Gotlieb proposes to speak for all women based on her own particular feelings about being unmarried in her 40s. I'm sorry to hear that she regrets not having married & feels her life is now devalued because of it. I'm sorry to hear that she feels wasted & unhappy because she doesn't have a husband. Here's a big newsflash though: not every woman defines her worth according to marriage, and not every woman wants to be married. Many women (and men of course, but they aren't the focus of Gotlieb's offensive musings) enjoy meaningful relationships that don't end in marriage. Many women are confident & comfortable dating as they get older. Some women even (*gasp*) ENJOY dating even when they're 30+!

Frankly, to those who've read Gotlieb's book it's quite apparent that she's suffering some sort of midlife crisis & is pushing her own narrow experience onto all women. She displays a disturbing narcissism in her assumption that what she experiences must be what all women experience, and any woman who disagrees is just wrong, obviously. It really is an unsettling read that leaves you wondering if she'll ever get the help she needs to address her own unhappiness, or if she'll just carry on assuming it's all the fault of the world & other women that she wound up regretting her own choices.

Had the advice been "don't get caught up in some narrow definition of a 'soul mate' or 'the perfect partner'" eg, I'd be all for it. But that's not really what Gotlieb's on about. Her sinister message is "get married young ladies, settle for whoever will take you, or else you'll find yourself a dried up worthless old hag (over 30!) that no man will ever want." I expect that sort of message from Victorian literature, not so much today.
As if that isn't enough, McLaren then goes on to quote Elizabeth Gilbert ( author of Committed: A Skeptic Makes Peace With Marriage.) ,  stating
Perhaps the most interesting observation in the book is that, historically speaking, a successful marriage has nothing to do with love. In the course of her research, Gilbert notices that, across cultures and history, the divorce rate spikes as soon as people start choosing their spouses for themselves.
Ok, this is a classic case/fallacy of assuming that correlation implies causation.  I suppose it didn't occur to Gilbert that in nearly every culture where arranged marriages have been the norm, women are economically dependent on the men, divorce is often verboten, or at least highly discouraged, and where divorce does occur, the result is often the women being left without their children and any form of economic survival.  So arranged marriages last longer, probably due to economic dependence and cultural boundaries – not because it creates a more compatible union between two people … is duration of a marriage the sole definition of "successful"?
Ultimately, I think that McLaren's message, which may have been better expressed as, "see your partner as a real person, and recognize that marriages take work, rather than expecting them to be some idealized representation of the perfect spouse", was completely undermined by the garbage she used to prop up her claim.
My message this V-Day is this:  Screw worrying about whether or not you are "in a relationship" or whether your spouse/partner showers you with presents because of some Hallmark holiday. Focus on the fact that there are MANY kinds of relationships with friends and family and they ALL take work.  Enrich your life by cultivating good friends and good friendships;  make sure you put as much into your relationships as you are expecting to get out of them;  and you'll never be lonely or bored.  More than half my friends are single (both men and women). We all hang out together. We go on vacations, and cottaging and to dinners and to movies together. We have our shared and individual interests. We have our misunderstandings and our resolutions.  We host birthday parties for each other, we care about each other.   Tonight, on Valentine's Day, one of these dear friends (who is single)  is hosting an amazing Ukranian dinner for 28 people – single, married, and some with kids, where we will eat, and drink, socialize, share stories, and play PIT until the wee hours… and we will have a blast.  Now THAT'S the best way to spend an evening, regardless of whether or not it's Valentine's day.
Email This Post
Email this Post
November 26, 2009 | Filed Under Social idiocy, Work | 5 Comments
At the Web2.0 Expo last week, a poorly-delivered talk by Dana Boyd of Microsoft caused quite a controversy, and the dust still hasn't settled.  While the talk was disastrous in many respects, it wasn't her poor delivery that is at the center of the discussion – it's how people in the audience behaved, and the resulting comments on the live twitter back-channel feed that was playing behind her during that talk, that has drawn the fire and ire of many people.  The Eloquent Woman blog has an excellent article entitled The object in Danah Boyd's Web 2.0 talk about why so many women feel uncomfortable in public speaking engagements.   Well worth the read, and she's spot-on when she says,
Despite all the discussion, calls for apologies and outrage over this episode, I've yet to see observers pick up on an important point that Boyd herself makes: Some of the comments broadcast on Twitter by some of her audience members were objectifying and sexual in nature.
How many bad male speakers have to put up with that?   Sadly she confirms that,
In 2009, we're seeing yet again an issue that has plagued women speakers since the days of ancient Greece and Rome:  Attempting to silence women by treating them as sexual objects (or hysterics, or other negatives).
Why does it feel like we still have a long way to go…?
Email This Post
Email this Post
October 9, 2009 | Filed Under Popculture, Social idiocy | 1 Comment
Ralph Lauren is suing them over the reprint of an ad in which they make fun of the ridiculous photoshopping that made the model so thin her head is bigger than her pelvis.  They refuse to back down.  KUDOS!
http://www.boingboing.net/2009/10/06/the-criticism-that-r.html  – Read the article. It's priceless!
(update – model gets FIRED by Ralph Lauren: http://www.dailymail.co.uk/news/worldnews/article-1220397/Photoshopped-Ralph-Lauren-model-Filippa-Hamilton-fired-fat.html )
Email This Post
Email this Post
May 5, 2009 | Filed Under Social idiocy, The Heartless Bitch Way, Work | 2 Comments
Thanks, Michael. Thanks for getting me more pissed off than I have been in ages. Thanks for ruining my day.
Ok. So it's not his fault, and I DO appreciate being made aware, even if it does invoke my burning IRE.  (I'm forwarding the link to Instigatrix just because fury loves company.)
Michael sent me a link to a blog posting entitled, "A Tipping Point for Women in Tech? Here's hoping." at Blogher.com.  
It seems that Matt Aimonetti thought it would be funny, nay, even APPROPRIATE, to intersperse images of women in porn poses in his presentation at the latest Ruby on Rails conference.  Apparently even the creator of Ruby himself thought this was OK.
Seriously.
What. The. Fuck. is WRONG with these people?  Virginia Debolt's article at blogher is a brilliant discussion and dissection of the uproar that (rightly) arose from this incident. I strongly suggest you read the whole article, and the articles she references. 
Aimonetti plans to attend a panel about Women in Rails at an O'Reilly Rails Conference taking place today. Apparently the speakers at this panel discussion are all women. God, what I wouldn't give to be THERE right now.
Email This Post
Email this Post
February 22, 2009 | Filed Under Popculture, Social idiocy, The Heartless Bitch Way | 15 Comments
I'm convinced that in the next 20 years, with the current demographics and our aging population, that there is going to be a HUGE market for reconstructive plastic surgery.
I'm all for people having the freedom to do whatever they want to their bodies, but that doesn't mean I can't think it's stupid just the same.  It seems that so many young people are incredibly short-sighted.
I see someone like this and I can't help but wonder what they will look like when they are 65. I keep hearing the words to that old kid's song "Do your ears hang low" (Do they wobble to and fro? Can you tie them in a knot, can you tie them in a bow?) 
  And of course, one can't help but stare when you see someone like this on the streets of any North American city, and yet, you aren't supposed to stare because in our culture, that's RUDE. Am I being incredibly prudish? I don't think so.  I just think it's fuckin' stupid.  Only a limited number of people would hire you to work for them if you looked like that. And it costs a small fortune to do all this body augmentation, so it can't be based on a rejection of our money-driven consumerist society – there's a whole BUSINESS around selling the shit necessary to do this to your body.

And it isn't just guys who have bought into this insanity: how about this one? 
Sure, it looks ALMOST ok right now, but again, what about when she's in her 70's and her skin is sagging, and…. well, you get the picture.


This one is definitely going to look like shit in a few decades.


I had a friend who confessed to me that she wished she had the money for reconstructive surgery on her labia, because she had a labial piercing in her 20's and by the time she was in her 30's one labial lip was hanging a good 1/2 inch lower than the other… She no longer had the piercing, but felt self-conscious about the result now that she was in her 30's. I'm tellin' ya, there is going to be a huge business in the future for cosmetic surgeons who specialize in repairing the folly of youth.
And let's not forget the "Complications" that can occur whilst stretching your ears (From a page dedicated to telling you how to do this):
Bleeding and soreness are common but can continue longer than necessary if you stretch too fast.

Blow–outs can occur if you stretch too early and too quickly before the piercing has the proper time to heal.

Tearing can occur when you stretch too fast too soon. This particular complication will not heal itself, and the ear love will remain with a large split or opening. You may want to nquire about plastic surgery to correct ear tearing.

Infections can develop if the piercing is not cleaned regularly/properly, or if you use improper jewelry.
My youngest son (who is an avid snowboarder), was telling me that the ski patrol sees all kinds of horrible shit happen to people with piercings on the ski hill. Ripped noses, lips, eyebrows and ears – one tumble in the snow, and any body jewellery risks getting RIPPED right out.  OUCH!
Of course, while I was looking for photos of stupid monster ear plugs (and I don't mean the kind that block out sound), I came across other crazy shit I had never even seen or heard of (And I used to have a copy of "Modern Primitives" on the coffee table for conversation.)
Check out this freakshow:
 This next one left me speechless, but you can read comments that reflected my thoughts exactly over at The Tish File, where I found this photo: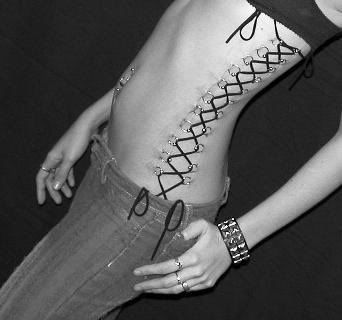 And now that we are on the subject of "lacing", I thought I'd leave you with these choice images.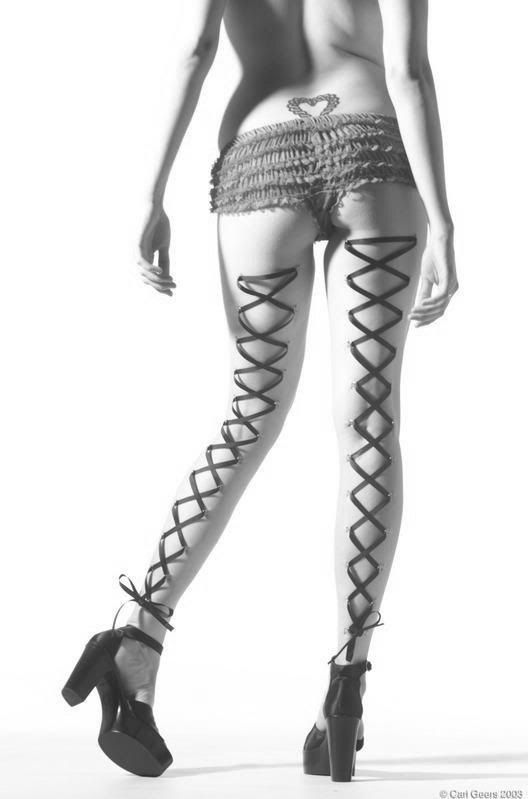 And it's one thing to decide to do this kind of shit to your own body. It's another entirely to do it to some innocent animal who has no choice. THIS woman should be locked up for a very long time. (*ARGH*)
Email This Post
Email this Post
October 16, 2008 | Filed Under Politics, Social idiocy | No Comments
Some of you may know that yesterday we had a federal election here in Canada.  The net result was yet another Conservative minority government.  Oh, the Conservatives are patting themselves on the back, saying they made "incremental gains", and the liberals are devolving into calls for a "leadership" review (since they didn't win) , but the truth of the matter is that for all the posturing taking place, nothing has really changed. It's the same people (give or take a few seat-changes) back in parliament, squabbling about the same things.
This was such an uninspired race, with nothing really new or compelling coming from the major parties.  And that utter lack of content translated into apathy in the populace. This election saw our lowest voter turnout on record. Just under 60%.   I guess people just couldn't be bothered.  On the positive side, we aren't yet as apathetic as the American populace when it comes to showing up at the polls, since they haven't shown more than a 60% turnout since 1968.
Rick Mercer of the Mercer Report put it best, "What we had here was a phenomenal waste of 300 million dollars."
*sigh*
Email This Post
Email this Post
July 15, 2008 | Filed Under Lifestyles of the Heartlessly Bitchy, Parenting, Social idiocy | 6 Comments
The more time I spend around the "general public", the more I become convinced:  the herd needs culling.
I'm not kidding.  The gene pool is seriously polluted.  But then, dear readership, you already knew that, or you wouldn't be a fan of this site.
Since modern science has interfered with Darwinian natural selection, I think we need to interefere further and impose a parenting test on all prospective parents.  If for no other reason than to protect innocent kids from being born to utterly self-absorbed morons.
One thing that made my blood boil this past week was people taking babies and very young kids to Bluesfest, with NO hearing protection.  Kids have much more sensitive eardrums. Everything is still growing, AND they have no choice or knowledge about how to protect themselves – they rely on their parents to do that.  Any reasonably intelligent adult should know this. 
A typical rock concert has music in the range of 100-125 decibels. Bluesfest was no exception.  They were measuring noise in the range of 55-65 decibels over a kilometer away from the site.  I rarely go close to the stages because it's just too loud. But anywhere on the grounds with a child is still going to be exposing them to unacceptably high noise levels unless they have adequate hearing protection.
The worst was the couple with a (probably 8-week old) baby, who were decked out hemp clothing, probably ate all organic food, would likely breast-feed the kid till he was in college, and yet had him by the main stages with nothing more than cotton stuffed in his ears.  The bf worked for a large manufacturer in the past. I asked him if they would allow the staff in the plant to use cotton balls for "hearing protection" in an area with 90+ decibels of noise.  He snorted in disgust. 
Honestly, these people are too STUPID to be allowed to breed!  I'm beginning to think that for the protection of the kids, they should refuse parents entry who do not have adequate hearing protection for their kids.  It's illegal to take a child out on a boat without a life preserver or drive them around in a car without a seatbelt. It should be illegal to take them to a rock concert without hearing protection. 
In truth, for the babies under 2 years of age at least, it should be illegal to take them to an adult music festival or concert, period, because apparently people are too STUPID to know better. 
Pregnant women past 20 weeks expose there foetus to potential hearing loss (and themselves to premature labour) if they go into highly noisy environments as well.  If you plan on carrying that baby to term, don't go to a rock concert or festival past the first trimester.
Here's the deal people – you CHOSE to have a child.  DEAL with the responsibility that entails, AND the sacrifice.  Like a movie theatre, or a play, a concert is NOT a place for a baby. If you can't afford the sitter, you can't afford to go. It's as simple as that, so suck it up. You have to learn to an important concept that you should be teaching your kids: DELAY OF GRATIFICATION.  It's a concert. There will be another one.  You can see the movie on DVD.  Save up the few extra dollars for a sitter for that play, or trade baby-sitting with a neighbor.
You won't be able to do all the same things you did when you were childless, so just accept that fact and be a fucking ADULT about it.  Be the PARENT your child needs you to be.  And if you aren't ready to assume that responsibility and change your lifestyle it's quite simple: DON'T FUCKING BREED.
�
Email This Post
Email this Post
« Previous Page
—
Next Page »
---