December 4, 2013 | Filed Under Relationships, Social idiocy, The Heartless Bitch Way | 1 Comment
Why is every woman you date a crazy bitch? Well the short answer is: It's you.
Yep.  Pretty much reiterates what we have been saying for years.  But he's also got some good points on how different kinds of damage attract (and are attracted to) damage…
Email This Post
Email this Post
July 7, 2013 | Filed Under Popculture, Social idiocy | 1 Comment
Dustin Hoffman talks about his revelations regarding his own misguided attitudes after his first makeup test for Tootsie…
How many "interesting women" ("or "interesting men") have you completely ignored because you are pursuing some media-mandated, culturally brainwashed ideal of physical beauty/attractiveness?
Email This Post
Email this Post
July 5, 2013 | Filed Under Lifestyles of the Heartlessly Bitchy, Parenting, Social idiocy | 1 Comment
I know being a parent is hard.
I know you have to sacrifice.
I know there's lots of things you don't get to do that you did before your bundle(s) of joy came into your life.
SUCK. IT. UP.
Let me set the record straight for some people who are REALLY unclear on what is appropriate vs inappropriate parenting behaviour.
1).  It is NOT OK for you to bring your INFANT or TODDLER to a movie theatre unless it's a mom & tot afternoon screening.  I don't CARE if it's expensive to get a sitter – if you cannot afford a sitter, you CANNOT AFFORD TO GO TO THE MOVIE.  Cope.  Your wants do not give you the right to a) disturb other patrons when your kid freaks out and ruin THEIR experience that THEY also paid money for, and b) expose your child to loud, scary and inappropriate content.
2) It is NOT ok for you to let your toddler run around a restaurant you are in unless you are in the play room of a Burger King or McDonalds.  The servers are carrying HOT FOOD and heavy, dangerous (if dropped on your kid's HEAD) dishes.  Show some RESPECT and teach your kids some DISCIPLINE.  It is not MY job, nor is it the restaurant staffs' job to look after your child.  If your child cannot sit still through a restaurant meal without disturbing other patrons, guess what? He/She IS  TOO YOUNG to take to a restaurant.  Order take-out and eat in, or get a sitter.
3) it is NOT OK  for you to take your INFANT or TODDLER to a rock concert (indoor or outdoor!) – and if you take a child and you don't ensure it has hearing protection, that just classifies, IMNSHO, as NEGLIGENT.  A typical rock concert is around 115dBs, but can be much louder if you are right near the stage/speakers.  Children are increasingly at risk for hearing loss, and the effects of so many kids listening at too high a volume to mp3 players/ipods  is starting to take its toll.  This will only be compounded by their bozo parents taking them to things like rock concerts when they are babies and not providing any hearing protection.  Repeated (unprotected) exposure to loud sporting events, concerts, etc. will take its toll on anyone's hearing – and children are even more at risk.  Even brief exposure to very loud noises can cause permanent damage:
"Children's ear canals are small and particularly susceptible to loud noises, and even brief exposure can induce permanent hearing loss. Sustained exposure to sounds greater than 85 decibels are known to damage the sensitive hair cells in the inner ear."  – http://www.theglobeandmail.com/life/health-and-fitness/ask-a-health-expert/is-it-ok-to-bring-my-baby-to-a-loud-concert/article4665564/
And it's ESPECIALLY NOT OK to take your infant or toddler to a concert AT NIGHT – a) your kid should be in bed ASLEEP, with some kind of reasonable schedule, b) you shouldn't be exposing your child to all that second-hand weed and tobacco smoke, and c) large drunken crowds can put your child at real risk for getting stepped on/injured.
There were 25,000 people at the festival concert I went to tonight.  I saw parents with INFANTS and no hearing protection, at a location where the base was so loud it was causing my heart to skip beats (in other words, MUCH louder than 115dB)!  And I wanted to smack the "mother" and I use that word loosely, who, AFTER DARK, while puffing on her cigarette, took her toddler out of the stroller (that people kept bumping into and tripping over because she was TOO CLOSE TO THE STAGE with it), and put a leash on him so he could toddle around.  Sober people were dangerous enough trying to make their way through the crowds in the dark. Druken ones even more so.  I breathed a sigh of relief when she picked the kid up.  I was THIS close to saying, "What the FUCK are you thinking? Bringing a toddler HERE, after dark, and then letting him wander around?"
Get a grip parents.  You are NOT entitled to ruin other people's enjoyment of a movie, concert, dinner and/or put your kid at risk because YOU feel entitled to some fun.  Parenting requires a great deal of sacrifice.  Just like your kids, you won't always get to do what you want.  Suck it up and act like a grown up.
Email This Post
Email this Post
June 10, 2013 | Filed Under Relationships, Social idiocy | 2 Comments
Great article on Jezebel regarding the (unfortunately ongoing) issue of NICE GUYS (TM) – this time it's about riffing the postings of these characters on OKCupid.
"Besides the near-universal sense that they've been unjustly defrauded, the great commonality among these Nice Guys is their contempt for women's non-sexual friendship…..It's a monumental overask to expect women to be gentle with the egos of men who only feigned friendship in order to get laid. "
AMEN.
And this is something we at HBI have been doing for YEARS:
"Nice Guys of OkCupid provides an excellent opportunity to reiterate a basic truth: there is no right to have sex….Mama firmly set me straight on the distinction between the right to want and the right to be given. Nice Guys need a similar sort of come-to-Jesus talk to disabuse them, once and for all, of their insistence that in a just and democratic society, hot young pussy ought to be distributed equally to every Tom, Harry, and Dick who demonstrates a minimal level of civility."
Read the full article at Jezebel:  No One is Entitled to Sex: Why We Should Mock the Nice Guys of OkCupid
Email This Post
Email this Post
March 24, 2013 | Filed Under Politics, Popculture, Social idiocy, The Heartless Bitch Way | No Comments
Email This Post
Email this Post
September 5, 2012 | Filed Under Lifestyles of the Heartlessly Bitchy, Social idiocy, The Heartless Bitch Way | 2 Comments
A frightening, but all too common occurrence in this story.  Thank-you to UnWinona for having the courage to post it.
http://unwinona.tumblr.com/post/30861660109/i-debated-whether-or-not-to-share-this-story
To quote a friend: "Men: Women in public do NOT owe you a conversation"… and to that I would add:  They don't even owe you a SMILE. They don't owe you ANYTHING.  And it is NOT your right to demand ANYTHING from a total stranger, just because she is a woman.
I remember as a teenager, coming off the dance floor at a club, SWEATING profusely, and heading to the bathroom when a guy came up and asked me to dance.  I said, "Sure. I just need to go towel off in the bathroom and cool down for a minute or two…" and he replied, "You beautiful girls are all the same, Stuck up Bitches!"  All because I wasn't IMMEDIATELY available to him and responsive.  CREEPS abound.
And in great juxtaposition, I present this piece, which challenges men to stand up to puerile, bullying, loutish behavior and harassment:  https://www.facebook.com/notes/ernest-w-adams/a-call-to-arms-for-decent-men/10151960903620290
I do love this retort in his article:
"It's hypocrisy. How come they get women-only clubs and we don't get men-only clubs?" Because they're set up for different reasons, that's why. Male-only spaces are about excluding women from power, and making little boys whose balls evidently haven't dropped feel special. Female-only spaces are about creating a place where they are safe from vermin.
Email This Post
Email this Post
August 13, 2012 | Filed Under Lifestyles of the Heartlessly Bitchy, Relationships, Social idiocy, The Heartless Bitch Way | No Comments
Great responses to women asking for advice about "That Creepy Dude" in their social circles…
From the article:
Step 1: A creepy dude does creepy, entitled shit and makes women feel unsafe.

Step 2: The women speak up about it to their partners.

Step 3: It gets written off as "not a big deal" or "he probably didn't mean it" or "he's not a bad guy, really." Any discussion of the bad behavior must immediately be followed by a complete audit of his better qualities or the sad things he's suffered in the name of "fairness." Once the camera has moved in and seen him in closeup as a real, human, suffering person, how can you (the object, always an object, as in "objectified," as in a disembodied set of tits or orifices, or a Trapper Keeper, or a favorite coffee mug or a pet cat) be so cruel as to want to hold him accountable for his actions? Bitches, man.
Read the whole thing HERE
Email This Post
Email this Post
April 7, 2012 | Filed Under Popculture, Relationships, Social idiocy, The Heartless Bitch Way | 3 Comments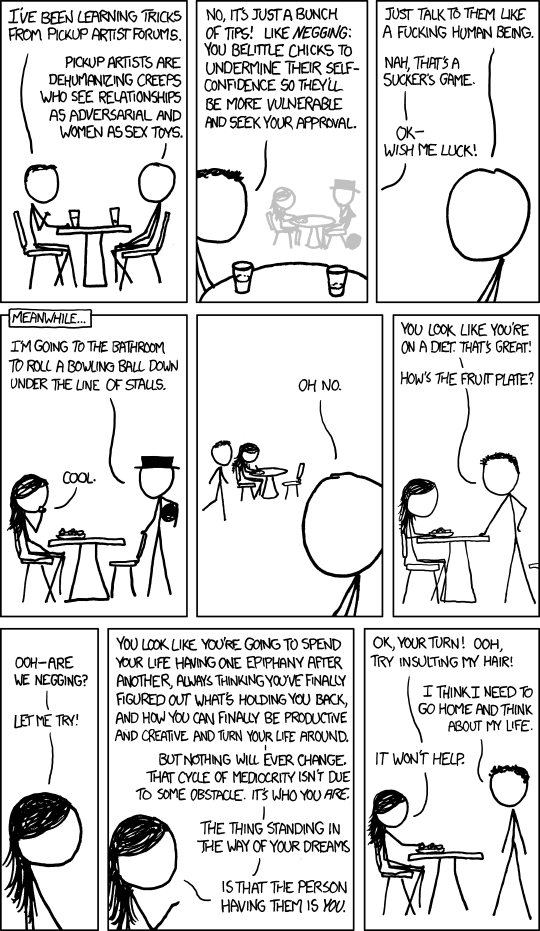 I so love XKCD…
Email This Post
Email this Post
March 29, 2012 | Filed Under Lifestyles of the Heartlessly Bitchy, Social idiocy, The Heartless Bitch Way | 1 Comment
What she Really said: Fighting Sexist Jokes the Geeky Way – Love it!
Email This Post
Email this Post
May 24, 2011 | Filed Under Lifestyles of the Heartlessly Bitchy, Popculture, Social idiocy, The Heartless Bitch Way | No Comments
VIP – Very Important Penis  – http://www.theglobeandmail.com/life/relationships/news-and-views/judith-timson/what-do-arnie-and-strauss-kahn-have-in-common/article2028743/
Thank-you Judith Timson… :-)
heartlessly,
-Natalie
Email This Post
Email this Post
Next Page »
---