July 11, 2010 | Filed Under Popculture | No Comments
I've been at the Ottawa Bluesfest this week – which technically has become less and less of a Blues festival and more and more of a generic music festival over the years…  In any case, this week it's been great acts like Joan Jett and the Blackhearts, the B52's, Metric, Roger Hodgson (doing much of his old Supertramp stuff), and Moody Blues.  As you can tell, they are all bands that have been around a while, (with the exception of Metric).  I've gone to see a few newer bands like Down With Webster, but for the most part, this festival really plays to the boomer generation.  (Last year KISS was one of the headliners).
Don't get me wrong, I love the old stuff and am very much enjoying the shows, however, I do prefer to listen to the new alt-rock radio stations rather than the "classic rock" stations.  And as such,  if I were to pick my dream lineup for a music festival, I know that most of my friends would have no idea who these artists are.
So here is my dream music festival lineup (not in any particular order):
Muse
Mika
The New Pornographers
Arcade Fire (playing at Bluesfest yeah!)
Scissor Sisters
HelloGoodbye
OK Go
Arctic Monkeys
Fratellis
Billy Talent
Franz Ferdinand
Gnarls Barkley
Modest Mouse
Vampire Weekend
Watchmen
Spoon
MGMT
Fallout Boy
Hot Hot Heat
Garbage
Interpol
Gwen Stefani
The Strokes
If you hear of a festival where most of these bands are playing, do let me know…
Email This Post
Email this Post
October 9, 2009 | Filed Under Popculture, Social idiocy | 1 Comment
Ralph Lauren is suing them over the reprint of an ad in which they make fun of the ridiculous photoshopping that made the model so thin her head is bigger than her pelvis.  They refuse to back down.  KUDOS!
http://www.boingboing.net/2009/10/06/the-criticism-that-r.html  – Read the article. It's priceless!
(update – model gets FIRED by Ralph Lauren: http://www.dailymail.co.uk/news/worldnews/article-1220397/Photoshopped-Ralph-Lauren-model-Filippa-Hamilton-fired-fat.html )
Email This Post
Email this Post
July 3, 2009 | Filed Under Popculture, Random Silliness, The Heartless Bitch Way | No Comments
Heard during an episode of "The Listener":
Oz: "Bein' a guy is great. You don't have to smell good you don't have to pluck anything…"
Toby: "Tell me again why you don't have a girlfriend?"
Email This Post
Email this Post
May 7, 2009 | Filed Under Lifestyles of the Heartlessly Bitchy, Popculture, Random Silliness, The Heartless Bitch Way | 2 Comments
Email This Post
Email this Post
April 5, 2009 | Filed Under Lifestyles of the Heartlessly Bitchy, Popculture, The Heartless Bitch Way | 9 Comments
Today we have a wonderfully frothy GUEST poster… Fabulana steps in to vent her spleen.
….
NPR just ran an interview with a woman, former Washington Post writer, who just wrote a tell-all book about her marriage to an abuser, whom she hasn't seen in 22 years. The lead in was maddening–it starts out with asking us to imagine we hear about a woman who is abused, and then asking you to picture that woman, and then presuming our SURPRISE to find she's–gasp–actually intelligent, and gasp, successful in her job and gasp, has an IVY LEAGUE education!!!! Holy smoking crap, people, NPR of all people, do you think we are still back in the day where we think abuse only happens in "working class" homes and abusers always helpfully dress as Stanley Kowalski so we can recognize them? Toni Morrison wrote a book about domestic abuse (ok, child abuse, whatever) happening in a privileged white millieu 25 YEARS ago… So where was this woman then? Not reading Toni Morrison. I guess books DON'T help people who don't shy away from being massively beaten to a pulp and psychologizing it as "love."
Most insulting of all was the notion that anyone equates an IVY LEAGUE education (Harvard) with a) street smarts or b) survival smarts or c) emotional health. WTFFFFFF? (That's a lot of Flying, Farting,  Frigging, etc. FUCK in there).
I mean, who does she think she is helping, by writing this book telling us that "smart" women stay in abusive relationships sometimes, too? I presume to think it be herself.
I probably underestimate the need for and value in such a book. But at some point, when do these memoirs become documents of self- justification? Reading that a woman who was throttled and thrown against a wall 5 days before her wedding and got married ANYWAY, then beaten again on her honeymoon and lovingly called "retard" as a, sic,  term of endearment, stayed married and had a Harvard degree, and  golly, gosh, gee, I guess abuse can happen to anyone…that doesn't  explain anything for me. I don't get how people can miss the warning signs. Maybe I've read too many letters to HBI, too. Not sure.
Some choice excerpts for you from the NPR story online:
"All Things Considered, April 2, 2009 ·  Former Washington Post executive Leslie Morgan Steiner is a best-selling author with degrees from two Ivy League schools, three adorable children…"
I remember thinking: oh great, do the children have to be "adorable," too?
"…and a loving and successful husband. If you met her on the street you might never guess her secret: that she was once married to a man who beat her with abandon on a regular basis — an experience she recounts in the memoir Crazy Love."
You mean I'd have to get to know all the sick things inside Leslie, that or see her black eyes, to understand that she was living a lie, a total, ugly self-justifying lie and knowingly did so despite her money, education, being white and blonde, having adorable offspring,  etc! And she still wears fucking polka dot halter dresses! Why does this photo annoy me so much? Grrr…
"Steiner says when she first met her ex-husband, whom she calls "Conor," on the New York City subway, she had no inkling that he was capable of such abuse."
Meeting guys on the subway; greeeeeaaaat.
"He was really clean-cut, dressed in a business suit," she tells Michele Norris.
Doesn't this just tell me that SHE is a fucking airhead, if she thinks "clean cut" and "business suit" means, don't worry, I'm sure his outer appearance coincided with whatever you have filed away in your brain under "good person." Isn't she just a victim of her own stereotypes and psychology?
"But early in the relationship, there were certain warning signals that indicated Conor's violent nature.

EARLY in the relationship. Really, this reporting and as a consequence this airheaded memoir really make me mad. Unfortunately, this review is probably playing straight into the book's prejudices: Oh gee, preppy blond thinks no one in a business suit would ever hurt her.

 For instance, he referred to her as "retard," which, Stainer [sic] says, was "a term of endearment, as sad as that sounds.""
Wow, so she goes from "retard" to "Stainer"! Nice job, NPR! I'm sure she'll stay with you forever now…
This whole book treatment suggests that it's a portrait of an abuser, like she's doing this big reveal, you know, of HIM (and he has no idea she's writing a book.) You know Eleanor Roosevelt was right, no one can belittle you, beat you, throw trash at you, and throw you up against walls without your consent. At least not repeatedly, short of human trafficking and enslavement.
What I want to know is, is this a  "portait of my abuser" book, all, nyah nyah, my new husband is 'loving and successful' (or so she says–why is this a red flag, that even now  she is CLAIMING to have the perfect life?), or a "portrait of ME" book  that really explains why she STILL calls such endearments "love"?
I think the book does arrive at wisdom–"you can't trust someone else's rage"–right. You can't trust a maniac not to go to far. But otherwise, how is she different from ANY OTHER abused woman? The focus on the wonder part, of how "great" her life is supposed to be, is really really fucking annoying.
Oh, the book has "Love" in the title. It's her "Crazy Love" story.  Really? Is this a dysfunctional romance novel, or what?
I just went to her website: http://www.lesliemorgansteiner.com/
The blurb for the book is, "a memoir of abusive love." REALLY?! How  about, "a delusional diary of loving abuse." WHAT is the difference?  Isn't this like calling rape sex? Hello, NPR, why the fuck are you helping this rich lady with her book club? Oh, and now there's a "Crazy Love Project," i.e. a message board where Leslie can gather YOUR stories, for "research" for her touchy feely sequel, no doubt. Oh yippee. Don't feel used, anybody–oh wait! You're USED to it!  To her credit, the front page sidebar has domestic abuse hotlines, advises abuse victims to call police, says in big bold, "RELATIONSHIP VIOLENCE IS A CRIME." Or is it…CRAZY LOVE? We don't know, Leslie. Maybe that amounts to a legal disclaimer, eh.

NPR, "boo" once again for drinking the Koolaid directly from the Thermos, without even using a Dixie cup (oh yippee, three trademarked words in one sentence). This is from LESLIE's website:
 "CRAZY LOVE
   If you and I met at one of our children's birthday parties,"
We all know that's a place where parents "go deep" and don't judge other people based on how they look, how much money they make, etc., *snort* 
in the hallway at work, or at a neighbor's barbecue
That pegs her pretty well, doesn't it? When is the last time SHE has actually been to a "neighbor's barbecue," do you think? Really now? Do you think she's Marge Simpson? I DON'T. I feel like this shit is spewed directly at the people she thinks she's selling this book to.  Suburban shock and awe.
you'd never guess my secret: that as a young woman I fell in love with and married a man who beat me regularly and nearly killed me.
I don't know about that. Her obsession with status and her image to others is giving me one big honking CLUE as to the depths of her insecurity.
I don't look the part.

WHAT the bloody fucking hell is THIS? Just proof that you CAN go to Harvard and still be a bloody rich ignorant boob who thinks only plumbers beat their wives. And god knows LESLIE would never marry a man PLUMBER, she dates exclusively men in business suits–and she finds them on the subway!!
I have an MBA and an undergraduate degree from Ivy League schools.

Well congratulations there, Leslie. Does she think she is breaking news with this schtick? She is 40 years late getting to feminism. And notice, this is the exact same lead NPR used. Spoon fed, if not IV!
I live in a red brick house on a tree-lined street in one of the prettiest neighborhoods in Washington, DC.

Aw. I'll bet she's got adorable kids. And kittens! This whole thing is a flashback to The Rules, remember? When women authors trotted out their family accessories as proof of their qualifications to give us advice?
I've got 15 years of marketing experience at Fortune 500 companies and a best-selling book about motherhood to my name.

This is all making sense. Understandably I didn't read her book on motherhood. Guess I don't go to the right barbecues!
A smart, loyal husband with a sexy gap in his front teeth,

I want to kill myself. Is it also just "so cute" when he chews with his mouth open? The world wants to know, Leslie. NOT.

a softie who

Careful about bragging to the world that your husband is "soft." That marriage is only as solid as your contract for a book sequel. Remember The Rules!
puts out food for the stray kittens in our alley.

I KNEW it! *fuming* So what in fucking bloody christian hell does your CURRENT husband have to do with YOUR abused past? Trying to prove that you are "fixed"? Methinks she doth protest too much. Can you imagine talking to this windbag for more than 5 minutes at a barbecue? You'd be ready to pull some Chester the Cheetohs Cheetah antics on her white linen dress.
Three rambunctious, well-loved children.

Count 'em! Three. Nope, no chance this woman is still "damaged" in any way. She's normal! She has the perfect kids to prove it! Though "rambunctious" does read as if Mother Leslie is a little stressed out. For "well-loved" my internal translator says spoiled.
A dog and three cats of our own.

And they're kind to animals, too. Aw. I'm sure NOTHING could be wrong in a household with 1 man, 1 woman, 3 children, 1 dog and 3 cats!!! Man, they sound more like my psycho neighbors all the time. The type who think that by building out their nuclear family they are doing god's work for civil society.
Everyone in my family is blonde (the people, at least).
Ok, this book is inspiring ME to violence. I can only say WTF so many times to good effect. And Leslie, honey…we have heard about hair dye. You're umpteen however many years old now, and you're telling us you didn't touch up the 'do for those PR photos? UNLIKELY
Ah, if only being well-educated and blonde and coming from a good family were enough to defang all life's demons.

Ah, yes. Pity me, because EVEN THOUGH I'm blonde and well-educated, bad things happened to me, boo hoo!
As if "demons" didn't often come FROM being well-educated and blonde and coming from a "good" (i.e. wealthy?) family. We can only assume ignorance is one of them. And deep, deep, deep insecurity. Gee, Leslie, are you sure you really DESERVE all that perfect life you have now? Then why are you trotting it out as the lame justification for a tell-all book that is also 22 years too late? That's right folks…her abuser wrote HER a "farewell" note, and she STILL HAS IT. And you know what else? You can see a wedding portrait of Leslie on her webpage! Neat! Absorb the delusion!
-Fabulana.
Email This Post
Email this Post
March 29, 2009 | Filed Under Popculture, The Heartless Bitch Way | No Comments
The Morrigan found me this one…. fucking brilliant….
The Target Women Super Special – Sarah Haskins reflects on what the media has taught us about womanhood…
"Because as a woman, it is our job to be ashamed of number two…it's a poop-a-dox…"
I'm still chuckling…
-Natalie 
Email This Post
Email this Post
February 22, 2009 | Filed Under Popculture, Social idiocy, The Heartless Bitch Way | 15 Comments
I'm convinced that in the next 20 years, with the current demographics and our aging population, that there is going to be a HUGE market for reconstructive plastic surgery.
I'm all for people having the freedom to do whatever they want to their bodies, but that doesn't mean I can't think it's stupid just the same.  It seems that so many young people are incredibly short-sighted.
I see someone like this and I can't help but wonder what they will look like when they are 65. I keep hearing the words to that old kid's song "Do your ears hang low" (Do they wobble to and fro? Can you tie them in a knot, can you tie them in a bow?) 
  And of course, one can't help but stare when you see someone like this on the streets of any North American city, and yet, you aren't supposed to stare because in our culture, that's RUDE. Am I being incredibly prudish? I don't think so.  I just think it's fuckin' stupid.  Only a limited number of people would hire you to work for them if you looked like that. And it costs a small fortune to do all this body augmentation, so it can't be based on a rejection of our money-driven consumerist society – there's a whole BUSINESS around selling the shit necessary to do this to your body.

And it isn't just guys who have bought into this insanity: how about this one? 
Sure, it looks ALMOST ok right now, but again, what about when she's in her 70's and her skin is sagging, and…. well, you get the picture.


This one is definitely going to look like shit in a few decades.


I had a friend who confessed to me that she wished she had the money for reconstructive surgery on her labia, because she had a labial piercing in her 20's and by the time she was in her 30's one labial lip was hanging a good 1/2 inch lower than the other… She no longer had the piercing, but felt self-conscious about the result now that she was in her 30's. I'm tellin' ya, there is going to be a huge business in the future for cosmetic surgeons who specialize in repairing the folly of youth.
And let's not forget the "Complications" that can occur whilst stretching your ears (From a page dedicated to telling you how to do this):
Bleeding and soreness are common but can continue longer than necessary if you stretch too fast.

Blow–outs can occur if you stretch too early and too quickly before the piercing has the proper time to heal.

Tearing can occur when you stretch too fast too soon. This particular complication will not heal itself, and the ear love will remain with a large split or opening. You may want to nquire about plastic surgery to correct ear tearing.

Infections can develop if the piercing is not cleaned regularly/properly, or if you use improper jewelry.
My youngest son (who is an avid snowboarder), was telling me that the ski patrol sees all kinds of horrible shit happen to people with piercings on the ski hill. Ripped noses, lips, eyebrows and ears – one tumble in the snow, and any body jewellery risks getting RIPPED right out.  OUCH!
Of course, while I was looking for photos of stupid monster ear plugs (and I don't mean the kind that block out sound), I came across other crazy shit I had never even seen or heard of (And I used to have a copy of "Modern Primitives" on the coffee table for conversation.)
Check out this freakshow:
 This next one left me speechless, but you can read comments that reflected my thoughts exactly over at The Tish File, where I found this photo: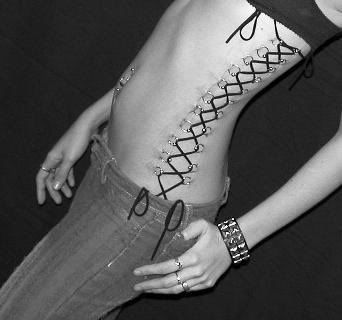 And now that we are on the subject of "lacing", I thought I'd leave you with these choice images.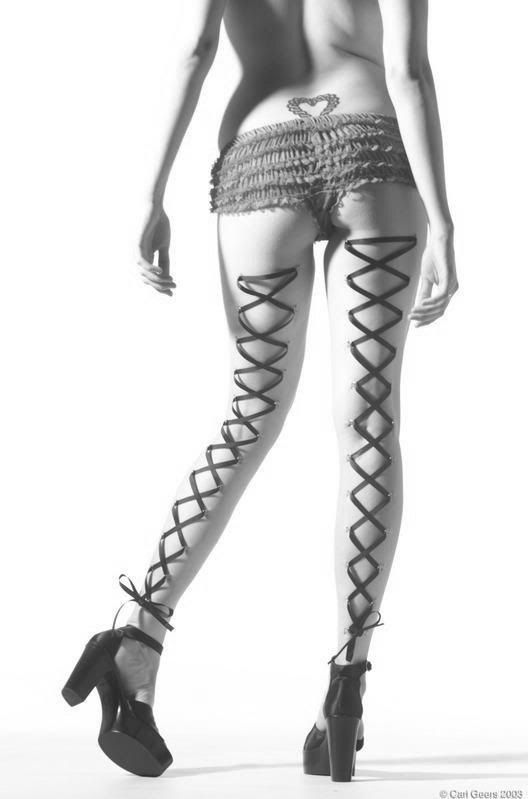 And it's one thing to decide to do this kind of shit to your own body. It's another entirely to do it to some innocent animal who has no choice. THIS woman should be locked up for a very long time. (*ARGH*)
Email This Post
Email this Post
February 16, 2009 | Filed Under Politics, Popculture | No Comments
http://brandstrategy.wordpress.com/2009/01/21/goodbye-bush-says-veet-in-cheeky-ad/

(Thanks Mike, for the link)
Email This Post
Email this Post
November 18, 2007 | Filed Under Lifestyles of the Heartlessly Bitchy, Movie Reviews, Popculture | 3 Comments
Two Weekends ago, at a friend's annual sausage making party (yes, a "sausage making party", I kid you not), over much wine and many different types of sausage, some of us got to talking about favorite movies and movie genres.  J and I came to the conclusion that our respective partners were more suited to "Titanic" and "The Notebook" style movies, while we liked a good scary theme. Another of our friends, who wasn't there that night, is a real horror fan.  She loves a good terrifying thrill-ride. We started talking about all the new and classic horror films and comparing ones we had seen. J suggested we all get together and watch horror movies one night, and in that moment, the "Girls Horror Night Out" was born.  (Addendum,  you must really enunciate well when saying that out loud.  I had a co-worker convinced we had a "girls whore night out".)
 It started as "We should get the girls together with a good set of horror movies and wine" and ended up being "We should do the whole thing as a sleepover, at the cottage, just to make it REALLY scary."  Out in the bush, remote, and DEAD QUIET at night.  Two weeks later, I was driving around picking up the other 3 who were coming along.
The bf graciously donated his Element so that we could all go up in one vehicle.  I brought the portable battery, a 19 inch flatscreen monitor, a dvd player,  cables, and the cooler.  I packed wine, pate, boursin cranberry cheese, crackers, chili-filled dark chocolate, apple-caramel muffins, and did I mention wine? As I picked each person up, the back of the Element filled up with sleeping bags, food, overnight bags and more wine. In fact we had stuff jammed in every available spot but there was still room to ride in comfort.
We got up to the cottage just as the sun was setting.  It was clear and crisp with the leaves pretty much gone from the trees. The lake had already started to freeze.  Because the cottage is "off grid", it had already been shut down for the winter – water disconnected, etc.  We could still use the composting toilet for pee, but anything else required use of the outhouse.   We had already decided that using the outhouse after we started watching movies might be beyond the capabilities of some of us.
The cottage was COLD inside, and the first order of business after getting the car unloaded, was to get the wood stove going.  It took several hours for the place to really heat up (and then it was downright toasty), but we had blankets and slippers so we were just fine.
With an amazing spread of food laid out on the table, we poured the wine, toasted our first (and now annual) Girls Horror Night Out, and put in the first movie.  We decided we would go from "least scary" to "most terrifying", so we started with "Jacobs Ladder". Two of us had seen it before, but that's ok, it's a seminal work from the standpoint of the horror/suspense genre.  Everyone agreed that there were elements from that movie that showed up in many horror movies subsequently. 
After the movie, I said, "You realize, of course, that just this very act of 4 women coming up to a remote cottage alone, with no electricity and no phone (well, except for my cell), is the very foundation of a horror movie."
J said, "Yes, but it's always the slut who gets it first."
H didn't miss a beat, "Oh shit…. well, I'm a reformed slut."
I wondered, "So what does that make the rest of us?"
J  replied, "I'm the perky but naive newlywed."
And I said, "and P, you are the religious one..",
"Who has lost her way and her faith…" chimed in J.
"I guess that makes me the older, cynical, wisecracking sarcastic one.", I mused.
"I am SO not going to the outhouse now!", H said adamantly.
With another couple of bottles open, we put in the next DVD, "White Noise".  I'll admit, I screamed twice during that one.  Afterwards, we were restocking on wine and filling up our plates with food (we were kind of grazing all night), and I think the white chocolate macadamia nut cookies were out at that point, and definitely feeling more on edge.  One of our cottage co-owners, PJ, was possibly coming up some time on the weekend – maybe even that night, but we weren't sure if or when he would arrive. While technically it was a "girls" night, it was only because the boys weren't interested in the scary movies or, in one case, were home doing child-care so mommy could go out and get the shit scared out of her.  J asked, "What time is it?"
"10 o'clock", I replied.
"What time would he have had to leave to get here by now?"
P responded, "Some time around 8 o'clock".
H said, "If he comes up and scares us, I'll kill him. He'll be SO dead." At that point, she put her foot down. "That's it. It's too late. He's not allowed to come up now. The doors ARE all locked, right? There isn't any other way for someone to get in, is there?"  I assured her that with the windows locked, the only two doors were in the main room where we were sitting.
We finally settled on the idea that if he hadn't showed up yet, he wasn't likely to.
Then someone posited that it was always the seemingly sweet, quiet male friend who happened to be the psycho killer…  We dismissed the idea but it WAS kind of unnerving to think about. 
Sounds like setting the scene for a horror movie… doesn't it? 
We put in the next movie, "The Exorcism of Emily Rose", filled our wine glasses, settled in under our blankets, and I was just about to press "play" when the door opened.
Every single one of us *SCREAMED*. 
And then we burst into hysterical giggles.
"How did he get in?"
"Well he DOES have a key, you know."
PJ stood in the doorway, looking quite surprised and a little amused.  To his credit, he didn't bang on the windows or sneak in and try to scare us.  We were just so freaked by that point that the very act of him opening the door was enough to shock us all. After the giggles and admonitions were finished, (PJ asserting his innocence the whole time), PJ finished unloading his car. 
Before we started, I took the opportunity to ask PJ to accompany me to the outhouse, because I figured I'd better go now, rather than after the next movie, or awakening in the middle of the night and having to make my way out there alone.  I figured NONE of the girls would be willing to go out with me at that point, and I was right.  H thought it was VERY brave of me to go to the outhouse at all at this point, even escorted.  Though I had moved 6 of our solar lights to mark the path to the outhouse when we first arrived, it was still pretty black out there.
I came out of the outhouse, carefully, half-convinced that PJ would jump out from the side and scare me (I probably would have done that to him), but he was nowhere to be seen.
I started calling for him, mind racing – oh shit, this is how it starts….
He was on the other side of the parking area with the light off. He called "I'm over here" and turned the flashlight on.
It still felt a bit too much like a horror movie until I was actually up next to him, and could see he was standing there alone with no psycho-killer holding a knife to his throat.
I breathed a sigh of relief and we walked back to the cottage.
We settled in for the next movie. PJ had brought more wine and food, AND another battery pack – and thank goodness, because about 1/2 the way through Emily Rose, my battery pack died. Now we could have put on the generator, but that would have meant going out to the generator house (next to the outhouse) both to start it, and to kill it after the movies were done.  We plugged in and restarted the movie, scene selected to where we left off and finished the movie.  Afterwards, we all agreed we weren't taking our watches or any clocks in the bedrooms, and that we had to be asleep by 3am.
We took that point in the evening to start telling our own "ghost" stories or experiences with the supernatural.  Only recently, a group of about 15 of us had gone on a night-hike to a cabin in a nearby provincial park.  As we were all leaving, I had to stop to use the outhouse (seems to be a thing with me). P accompanied me and we each waited outside for the other as we took turns. As P was in the outhouse, I saw a light in the bush BEHIND the outhouse. She came out at that moment and saw it too. We called out, and the light went out.  Our friends were in the OTHER direction, and hadn't even gotten that far yet, they were still just coming out of the cabin.  It was VERY unnerving.  I was very conscious at that point about not leaving any stragglers on the long hike back to the parking lot. 
Someone else told a story of having something weird happen to them at 3am the night after first seeing Emily Rose. And the stories went on.  We were well psyched for the final film.
The last movie of the night was "The Descent", and I'm glad we saved it for last. It definitely had ALL of us (even PJ, at one point), jumping, screaming and gasping.  It was VERY well done, and very disturbing, and I admit that I had my hands in front of my face more than once. Part way through someone said, "Do you think this movie has a happy ending?"  We burst into nervous laughter.  In fact, the ending was just perfect.  I hate fluffy wrapped-up-in-a-bow endings (and that's the biggest spoiler I'll do in this review). The Descent was definitely the most horrifying of the 4 movies, in more ways than one.
The problem is that after something like that, you are so wound up that sleep, even though it is now 2:30am, is very slow to come. H and P were sharing a room and I could hear H saying, "I'm so glad I'm not sleeping alone in a room tonight…"
PJ slept out on the screened-in porch, despite the cold, in an extreme cold-weather sleeping bag, because he wanted to practise for winter snow-camping.  We were half-convinced something was going to get him in the night.  (The next morning he said he heard some weird sound in the night that was sort of like a dog barking or yelping…) 
The night passed, I finally managed to fall asleep, and we all awoke in our beds, safe, sound and only slightly worse for wear.  We filled up on fresh bagels, muffins, coffee and fruit and packed up the remnants of the night before. 
As we were leaving, J hugged PJ and said, "Thanks for not killing us", to which P said, "You know, you really shouldn't have to thank him for that."
We have decided to make it an annual event, but we will keep the weekend secret from our friends because I just KNOW that if they know in advance, someone WILL show up and freak the shit out of us. God knows, I'd do that if I knew some friends were up at their cottage watching scary movies. 
After all, I AM a Heartless Bitch.
Email This Post
Email this Post
September 9, 2007 | Filed Under Lifestyles of the Heartlessly Bitchy, Music, Popculture | 1 Comment
This weekend I'm attending VirginFest, and no, it's not some pagan festival for the deflowering of gorgeous young nubile virgins (*sigh*). It's Virgin Mobile's 2-day music festival on Toronto's Center Island. 
We just finished day 1, and while the music has been great, I have to admit that I am spoiled by the Ottawa Bluesfest. This is year 2 for Virginfest and they still haven't worked out the kinks. For example, at Bluesfest I can buy a beer or a cooler or a decent glass of wine and take it back to where we are sitting and enjoy my drink and the music at the same time. At VirginFest, there are designated 'Beer Gardens' which will not allow you to enter with anything bigger than a small purse – all bags must be "checked".  So you'd think the organizers would actually have prepared for this, but you'd be wrong. The poor "bag check" people were writing numbers on paper and tearing it in pieces to hand to those of us who had to check a bag.  Outside the b-live lounge it wasn't even that organized. They had an area where you could leave a bag while you went inside for a drink. There was no mechanism and no assurances that your bag would be there when you got back.  
After all that, we found out that the only beverages in the beer garden were Bud and Bud Light. Yech!  Then, as if  the lousy beer and lack of planning for bag check wasn't bad enough, the beer garden for the main "Virgin" stage was next to, and pretty much behind the stage. Unless you were at one small corner of the very large beer garden, you couldn't see the bands play and couldn't really hear them either.
I was also disappointed at the miniscule size of the screens on the main stage. You'd think a company like Virgin Mobile could spring for decent sized screens – again, I'm spoiled by Bluesfest – the screens are double the size of the ones at VirginFest.
My other major complaint is the requirement to have to purchase "tickets" for most food and all beverages.  I can understand the reasons for taking this approach, but then fer chrissakes STAFF the ticket selling booths adequately. The lineups were often obscene.
At the Ottawa Bluesfest, you just walk up and buy your beer (or wine) directly from the beverage tent. You walk up and buy your food directly from the vendor (and there was way more selection). Yes, sometimes there are lines, but not like the hour-long lineups to get "tickets" at VirginFest.
Organizational fiascos aside, there were some good aspects to the festival, like the Bacardi B-Live Lounge – the drinks were fabulous and the same price as the crappy beer.  I'll take a Mojito over a Bud Light ANY day.  The music and club atmosphere was fun too.
And as I said earlier the bands we went to see were great.  Arctic Monkeys, MIA, Bjork and Interpol were all fabulous, but the real treat was Mute Math. They put on the best show! It's just too cool when a rock band uses a Stand-up Bass!  The lead singer (Paul Meany) was over-the-top energetic, and Darren King's drum theatrics were nothing short of amazing. The bf thinks that Meany looks like Mr. Bean but I think he's kinda cute – then again, I like the geeky look.
I'm looking forward to tomorrow because I really want to see Stars, Metric and the Killers. Unfortunately I'd also like to see Dirty Vegas but they are up against the Killers so it's going to be tough. What will be tougher is trying to work the next day when I have to drive home (4 hours) after the concert ends at 11pm…
Email This Post
Email this Post
« Previous Page
—
Next Page »
---