by Natalie P.
October 3, 2007 | Filed Under Lifestyles of the Heartlessly Bitchy, Work | 2 Comments
Why is it that when I tell friends I am now taking the bus to work, I am greeted with disbelief and/or shocked looks?
It seems that unbeknownst to me, I was somehow deemed "least likely to take public transit" by those in my social circle.  Even the bf thinks I may not fully commit to this new approach to transportation.  So much so, that he recommended I use "bus tickets" rather than buy a monthly pass, until I am certain I'm going to stick with it.
It's not that I'm a snob or anything. I know some people don't like the aspect of sitting with a bunch of other (often strange and malodorous) people, and in fact, see riding public transit as somehow beneath them – but I'm not one of those. In fact, I think the people watching is entertaining, for now, at least.  But somehow my friends just don't see me as a "bus" person (these are the same people that were surprised to hear I DIDN'T have a tattoo).  Sure, I like the convenience a car provides, and I take pride in my wee beastie, but even so, I drive a small economy car, not an SUV, so I'm being as environmentally conscious as I can when I do drive.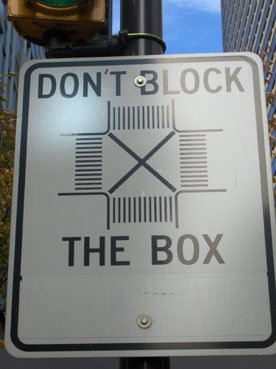 The problem is that the new job is downtown, and it doesn't cover parking costs. Not to mention that the location is a BITCH (and not a good one) to get out of at the end of the day. I'm stressed enough as it is with work – I don't need the added aggravation of dealing with gridlock in the downtown core.  People here are STUPID DRIVERS. 
There is a very fundamental traffic law that must be obeyed to prevent gridlock in a city – it's the one where you DON'T enter an intersection unless you can clear it on the other side.  People here almost never abide by that traffic law, and the cops do nothing about it.  In fact, while I was waiting for the intersection to clear before entering it, one asshole went so far as to PASS ME ON THE RIGHT, in the PARKING LANE,  and then proceded to block the intersection when the light changed. 
One year, I recall it taking 45 minutes to go two blocks during the first snowfall day of the season because a) our hot Ottawa summers apparently cause memory loss – every year the drivers FORGET how to drive in snow, b) people enter intersections when they can't clear them and block them for the through traffic and c) I swear the traffic light cycles in this city are controlled by a single blind, wheezing old man with an IQ of 40 who thinks he's playing "connect 4". 
I want "THE BOX".   You hear that mayor Larry O'Brien?  Institute a "Don't Block The Box" program in Ottawa. The drivers here are desperately in need of some harsh (read EXPENSIVE) and corrective justice, because my horn is getting worn out.  Besides, I bet they could make enough money in the first month to PAY for that controversial new light rail system.  Hell, I'll even volunteer to hand out tickets.  It would warm the place where my heart used to be, to slap a $250 fine on the fuckwits.
But back to bussing…. So I don't drive to work now because a) the new job is downtown with its attendant bad drivers, stupid one-way streets and resident gridlock, and b) the parking would take an unreasonable bite out of my income. So I bus. Which isn't so bad because it gives me a bit of an extra walk (and thus, exercise) to and from the bus stops, and gives me time to work/listen to podcasts on the way. 
Which leads me to my next "For the love of god, do something about this!" request: How fucking hard is it to put up SIGNS in the Transitway (it's kind of like a subway, but for buses), that actually TELL you what station you are at?  I swear, each station has ONE, tiny (8-point font) sign at the very start of the station, and if you aren't paying attention (say, because you are changing to the next song on your ipod), you have NO idea which stop you just went through. The problem with this, is that if I don't pull the "next stop" request at the right time, I won't just have to backtrack one block – this bus gets on a parkway after that last stop and does not exit until I am a good 10kms from my home.  Seriously, I'm going to take pictures tomorrow and modify this posting to show you how STUPID it is.  I mean, every subway stop in ANY metropolitan city has great BIG signs, stating what the station is, right?  How hard can it be? They are ready to spend MILLIONS on light rail, but they can't even put up signs in the current transitway stations?   I'm ready to get out there with a can of spray paint and put the names up myself – except of course, that's vandalism and carries a fine of $500.
If you get caught.
So I bus, and try to pay attention to where I am, so I don't miss my stop.
On the positive side, I do have to go through a mall to get to the bus station near work, so if I need a bottle of wine, or something from the drug store, I can pick it up on the way. I also work near a bunch of small shops that sell specialty meats, fish and cheeses, so I can pick something up for dinner as well. 
Of course, these conveniences would also be accessible to me if I drove to work too, they aren't the exclusive domain of the bus-riding public.
When friends hear that I am taking the bus, the first thing they ask me (after getting over the initial shock and disbelief) is what I'll think of that "extra walk" when it's -20C and knee-deep in snow.  I have to admit, that may be the reason I am not ready yet to commit to a bus pass. My bum-warmer seats in my car have a fair bit more appeal than waiting in the ass-biting cold for a bus that, by-the-way, can't drive in the snow.   Do you know that our brilliant city leaders went and bought articulated buses that can't handle more than 5cm of snow? Oh, and they can't get snow tires for them either. Nobody manufactures them.  In Ottawa, the 2nd coldest capital in the world.  What were they thinking?  Were they thinking at all? 
Worse yet, I heard these buses are made in Winnipeg (otherwise known as Winterpeg to most Canadians), so you'd think they'd GET "snow", right?  You'd think.  Too bad THEY didn't.
So the bus and I have a casual relationship right now. We're dating.  Seeing if we like each other.  Still seeing other people (I take my car on Fridays), waiting for that first kiss of winter to see if the chemistry is really right.
Email This Post
---
---
Categories
Archives
Subscribe
Allposters.com